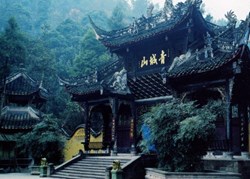 You can have an in-depth exploration in Chengdu within 72 hours. -- Murphy
(PRWEB) August 29, 2013
Chengdu, home to the adorable panda and a popular travel destination in Southwest China, will make it accessible for transiting passengers from 45 country to enjoy a 72-hour visa-free stay, effective on September 1st.
Following Beijing, Shanghai and Guangzhou, Chengdu will become the 4th as well as the 1st inland city in China to adopt this policy.
WindhorseTour, a Chengdu-based travel agency offers Chengdu City tours, ranging from 1 to 3 days, to fit the needs of those who want to explore the highlights in or around this city within the 72 hours.
The 1-day tour to Mount Qingcheng is a perfect fit for natural scenery lovers. "Covered by verdant trees, Mount Qingcheng is a tranquil summer resort in Chengdu. You can choose to ride a cable car to have a bird eyes' view of the mountain or raft through the stream at the less visited Qingcheng Houshan," Murphy, a Travel Advisor at WindhorseTour expressed. She just wrote a blog to introduce the top 10 natural wonders in Sichuan, and Mount Qingcheng was on the list.
Experiencing 1-day panda volunteer is also a "can't miss" in Chengdu. Clients will spend half a day to get up close to the adorable pandas, and participate in some interesting activities including cleaning the pandas' garden, feeding pandas, and more. WindhorseTour was the first travel agency to organize panda volunteering tours for international travelers.
Debra, a client from WindhorseTour said, "The panda volunteer work was a great way to learn more about the panda. I learned many things about personalities and demeanor of the pandas."
Other activities in Chengdu include attending a cooking class, visiting the Jinsha Museum. "You can have an in-depth exploration in Chengdu within 72 hours. We encourage our clients to decide what they are interested in most. We will share their clients expert advice and help them plan an itinerary which can be around those interests," Murphy said.
The 72-hour Visa-free policy in Chengdu will share the same regulations with Beijing, Shanghai and Guangzhou. To apply for a 72-hour visa-free stay, travelers need to prepare their valid international travel documents and the flight tickets which will depart to the third country or area within 72 hours before they submit the application to the airlines of their flights. During the 3 days, they are not permitted to leave Chengdu to visit other Chinese cities.
WindhorseTour specializes in creating tailor made experiences based on every client's unique needs and operating groups to all provinces in China. Please visit WindhorseTour.com for more information or contact them.
Email address: news(at)windhorsetour(dot)com
TEL: (+86)-28-85593923, (+86)-28-86254701
Fax: (+86)-28-86254710