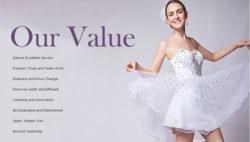 (PRWEB) August 29, 2013
MMdresses.com is a renowned wedding dress manufacturer and retailer. Recently, the company has announced a special offer on its high slit evening dresses (http://www.mmdresses.com/high-slit-evening-dresses_c100_339) and backless evening dresses. According to the CEO of the company, all clients can enjoy the discounts, up to 60% off, before Sept. 20, 2013.
High slit evening dresses and backless evening dresses are the most popular styles of evening dresses in 2013. At MMdresses.com, customers can spend a few minutes to have a look at the complete collection, which is updated every two weeks. It will now be easier to find dresses for the party, and none of the dresses there will be out of fashion.
"It is really exciting to offer the trendy dresses to women worldwide. With dedicated customer support, we offer a great selection of trendy clothes and other quality outfits that are sure to keep you comfortable. Please visit our website and start your shopping now," says, the CEO.
MMdresses.com's new collection of Quinceanera dresses 2014 will be available soon. MMdresses.com's design team has much experience and unlimited creativity in dressmaking. The company is devoted to offering ladies an opportunity to find the perfect prom dresses to fit their shapes.
About MMdresses.com
MMdresses.com is an award winning wedding dress manufacturer and retailer, offering a wide range of slit cut prom dresses, homecoming party dresses, bridesmaid dresses, evening dresses, and more. At Mmdresses, ladies will receive professional help directly from dress experts. The company aims to deliver ladies worldwide all kinds of dresses at prices as low as possible.
More information can be found at http://www.mmdresses.com/backless-evening-dresses_c100_340.