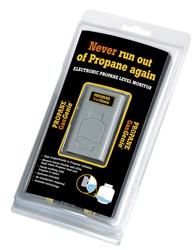 Installed this last week and grilled this weekend. Simple to install and it does the job! Played the tone, and I knew I had enough time to finish those steaks!
Princeton, New Jersey (PRWEB) August 30, 2013
The Propane GasGenie is the only product that actively warns the user that the propane is beginning to run low. It does this with plenty of time for the grilling to be finished before running out of gas.
It has been selling on Amazon since spring this year. The sales have been growing week by week and now the Company responsible for it have decided the time is right to move into the retail sector so that customers have a choice of where to buy it. The market potential is huge with more than 43 million regular users of propane grills.
The move to supply the independent propane dealers who refill or replace the typical 20 pound tanks has been in the Company's plan from the beginning. Peter Frank, Director of Product Innovation Ltd, which owns the rights to the product, says, "We always hoped that after a period exclusively on Amazon the retailers would start to show and interest. And this is now happening. Typical of this new trend is the following email we received:"
'I own a propane gas company and I believe this is the best product for the grilling community in years! How could I become a dealer of your product?'
"So we have now started to contact independent retailers with a view to them stocking the product. Using a feature of the Amazon warehouse system it is possible to offer sensible wholesale discounts for these retailers."
Getting into the larger stores or propane dealerships is virtually impossible for a new product with no track record. Businesses like Home Depot or Amerigas have to think in large quantities and plan well in advance. When a product is new and untested in the market they are understandably reluctant to commit their resources to what they see as a risky venture. The independent retailers can take the risk because they can buy in smaller quantities and see how the market reacts. The Propane GasGenie is available in minimum quantities of 25 units. And because there is stock ready for shipping at short notice they can quickly re-stock if they see that the product sells well. It is not difficult to see the attraction for these retailers: Customers regularly arrive with an empty tank complaining that they were in the middle of grilling when the gas ran out. At the same time as refilling their tank they can also offer them a Propane GasGenie. That way they can avoid the same thing happening again.
Over time as the product sales increase further the larger retailers will be able to review their position and will no doubt want to stock the product. But until then Peter Frank says "We are very happy to be selling on Amazon and moving out to the independent retailers. We want to develop the business at a sensible pace and ensure that our customers remain satisfied. So far the Amazon reviews have been very good and we want it to stay that way."
The Propane GasGenie is available on Amazon and any retailer with an interest in the product should contact Peter Frank.
About Product Innovation Limited
Product Innovation Ltd is an established New Product Development consultancy specialising in inventing and developing new products, mostly electronic sensors, for manufacturing companies. The company has been in business for more than 25 years and in that time has been involved in a wide range of new products many of which have worldwide patents. Visit http://www.productinnovation.com for additional information about Product Innovation Limited. More information about Propane GasGenie can be found at the following site: http://www.propanegasgenie.com.