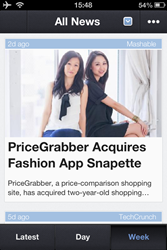 New York City, NY (PRWEB) August 31, 2013
Following the tremendous success of its previously released Riversip News Apps, Briox announced today an exciting new app covering the start-up scene around the globe - including new start-ups, latest M&As, product announcements, funding series and tips for entrepreneurs. All news & videos are presented in an innovative user interface, representing the next generation user interface for the Riversip platform.
Available today in the Apple iTunes store, Google Play and Amazon (http://www.riversip.com/startup_news.php), this free app is the most efficient way to follow news about innovation, new start-ups, investments and M&As. Powered by the same algo-social editing technology that's powering the Riversip line of apps, this app has the ability to "understand" what's buzzing, what's hot and what is grabbing entrepreneurs & investors' attention around the globe – and serve it with a smooth & slick user experience. The result is a start-up news app that always serves the hottest selection of items, covering the top developments & announcements of the most exciting start-ups around the globe.
"There is so much innovation going on in the start-up scene, plus there are deals, exits and tips, announcements and tons of other start-up-related information from various news outlets and blogs. Yet – until now there was no easy way to follow them all," said Briox Co-Founder Itamar Rogel. The app represents a gold mine for those who wish to spot the next opportunity, follow competition or follow the trends investors are betting their money on. This app makes it so easy to stay in the know about start-ups that it simply changes the game.
Features of Riversip Start-up News app include:

The latest news about startups and investments, picked & arranged for maximal reading pleasure.
Adapted to user's schedule: latest, day and week time perspectives are offered
Push notifications for prominent announcements and stories.
Social conversations around stories - Riversip groups Tweets and Facebook posts relating to news events and shows them all together, so the user can see what his friends had to say on each of the stories.
Expanded coverage for each news event: all the sources which have covered each event are accessible with one tap, including previews of the stories. This is a great way to get all the juicy angles around the hot stories.
Personal feed: the user can customize a list of topics and use the "My News" feature to receive a summary of the news, only for the topics he's interested in.Example topics: VCs, Startups, products etc.
Easy sharing on social networks, such as Facebook and Twitter.
No setup or learning time required. Relevant news from the most relevant sources right from the first usage !
Built in commenting system where the user can comment on stories, or vote on others' comments !
App Store - https://itunes.apple.com/us/app/startup-news-riversip/id691834448?ls=1&mt=8
Google Play - https://play.google.com/store/apps/details?id=com.briox.riversip.android.tech.startups
Amazon - http://www.amazon.com/gp/mas/dl/android?p=com.briox.riversip.android.tech.startups
About Briox
Briox, the developer of the Riversip platform, was founded by Nati Berkover and Itamar Rogel. Briox has deep expertise in data fusion and information processing algorithms, which the company has leveraged to create the Riversip platform. The platform also offers a professional API for companies & enterprises to plug in and get the most relevant news & videos for each topic. Riversip Startup News is the latest application based on this platform among many others that were released, covering a vast array of topics, including technology, sports (tennis, golf, horse racing, fitness and more), entertainment & fashion News.
For more information, please visit http://www.riversip.com.