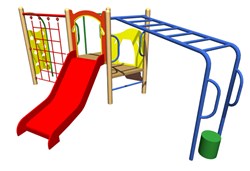 A well designed playground with stimulating playground equipment, providing a range of learning opportunities can therefore be a real boost to the achievement of the Early Years and Foundation Stage goals.
Bolton, Lancashire (PRWEB) August 29, 2013
Based at Bolton Enterprise Centre, Bolton in Lancashire, Playground Imagineering design, supply and manufacture a varied range of outdoor playground equipment including school outdoor furniture available 'off-the-shelf' or purpose built.
Playground work mainly with nursery and primary schools (on a national basis), providing a comprehensive service which includes site inspection, playground design, installation and maintenance.
"If you look back and recall some of your happiest childhood experiences and then consider where most of these took place, the chances are they were outdoors. Recognising this and the potential impact on learning, many schools are now developing their playground equipment to maximise play and learning opportunities outside the classroom," said John Hughes, Director of school playground equipment company, Playground Imagineering.
This approach is supported by Ofsted and the following quote is taken from their website: "Children in the Early Years Foundation Stage benefit from spending a lot of time learning through playing outside, whatever the weather. This makes a significant contribution to the progress they make, particularly in their personal, social, emotional and physical development, as well as their communication skills."
"Many schools are pushing ahead with innovative schemes to facilitate the truism that 'Learning is more fun (and therefore more effective) outdoors', with design help from companies like ours I'm sure they will achieve this," said Mr Hughes.
Playground Imagineering suggest a simple approach based on an understanding of both Maslow's hierarchy of needs, and the Early Years Foundation Stage (EFYS) requirements for Learning and Development.
The school outdoor furniture expert commented, "We have learnt from the many great teachers we meet on a weekly basis that it is critical that a child's basic needs are met before any higher learning can take place."
The basic needs (according to Maslow and EYFS) include food and drink, warmth and safety (both the physical and inter-personal environment).
These are normally satisfied through the provision of snacks and drinks, the right clothing and the caring, structured and disciplined environment created by the teachers and their assistants.
Once these have been satisfied, children feel confident to look beyond the basic needs and to start interacting with those around them and the environment in which they find themselves.
"We have worked closely with schools from around the country to design our new range. It has been rewarding and challenging to produce pieces which can help children learn through outdoor play," said Mr Hughes.
Playground's new range includes a playhouse, play frame, water table and outdoor stages.
The playhouse includes a sand box, is made of quality timber and is suitable for schools with limited outdoor space.
It encourages social and imaginative play as well as allowing the children to play and interact with the simple physical elements around them.
The play frame known as 'Action Zone' provides opportunities for climbing, swinging, traversing and sliding.
It features:

Rubber step post start/finish point
Hand over hand ladder
Horizontal step bar
Two wooden decks
Rock ramp with crawl through panel
Slide
Lily pad climb
Vertical rope net climb
Sail shaped climbing wall
"A well designed playground with stimulating playground equipment, providing a range of learning opportunities can therefore be a real boost to the achievement of the Early Years and Foundation Stage goals," advises John, Director of the playground design company.
The natural playground specialist added, "We have a great range of school playground equipment to help meet all the EYFS Leaning and Development objectives which we have developed by listening to the needs of teachers. Often our biggest challenge is to create a design that meets all the requirements in a comparatively small area and to a limited budget!"
Playground shelters, connected to the school walls, are a great way of extending the classroom and facilitate outdoor activity no matter what the weather.
To help ensure the learning and development opportunities are child initiated, Playground Imagineering also design purpose built playground storage units.
These are designed to allow staff to leave a range of play equipment on shelves which the children can then access.
Avondale Primary School in Darwen is just one of many schools that have benefited from Playground Imagineering's design input this summer.
Their once plain tarmac space has had a full make-over.
"We included chalk and wipe boards to help with communication and language and transformed an unused border area around a tree to create a quiet and social area. For Physical Development the school selected a Trim Trail and an Action Zone climbing frame with slide. The scheme also included a zig-zag water board, planting beds and a car track with zebra crossing, car parking spaces and log planters. This exciting new installation will surely help the children from Avondale learn through outdoor play," said John.