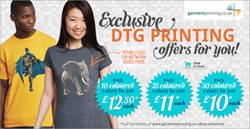 Students need to save money and Garment Printing want to support tomorrows future
London (PRWEB UK) 30 August 2013
Garment Printing has created a range of special offers on personalised clothing aimed at university and students organisations ahead of Freshers' Week 2013. The packages, which include discounts for referrals and money off on bulk purchases, will allow the business to take advantage of the marketing opportunities that Freshers' Week has to offer.
Freshers' Week takes place at the beginning of every university year and allows new students to get together and meet fellow freshers, engage in fun activities, and sign up for clubs, sports teams, and societies. With an estimated 2.5 million students in the UK with a combined spending power of £15.5 billion, it has become a major event for companies looking to market to this audience.
"Freshers' Week presents huge opportunities for businesses and universities," says Garment Printing CEO Gavin Drake. "Last year, the website for Edinburgh University's Freshers' Week received 25,000 hits every week from July to September, while Leeds University union building had more than 90,000 visitors during Freshers' Week alone. This year, social media is already buzzing with messages from students and universities have had to create special Facebook and Twitter groups to post updates about events."
Garment Printing's offer is strategically catered towards the different university groups who are looking for a way to cut costs while still attracting new recruits at Freshers' Week.
The company is offering a 10% discount on the already reduced t-shirt printing packages on the offers section of its website. These include a package that allows university groups to buy 25 coloured personalised T shirts for £6.30 each, 50 for £4.50 each, or 100 for £3.15 each.
In another offer designed to encourage referral business, Garment Printing has pledged to offer groups that refer clients to the company 50% off their next order once their referrals spend a combined value of £1,000 on promotional merchandise.
For more information on Garment Printing's Freshers' Week packages, visit http://www. Garmentprinting.co.uk/offers.
About Garment Printing
Garment Printing.co.uk is an industry-leading promotional and customised clothing company that aims to maximise the efficiency of marketing teams and agencies through its integrated, global supply chain. The business was founded by CEO Gavin Drake who has 15 years' experience in the industry and has worked with global brands such as Mindshare, Coca Cola, Skype, Google and Saatchi and Saatchi. Garment Printing offers a complete range of bespoke customisation techniques including screen-printing, embroidery and the latest direct-to-garment T-shirt printing technology combined with express turnaround and excellent customer service. Garment Printing's agency work involves consultation with global brands, marketing teams and promotional agencies to ensure all printed clothing campaigns are realistic, within budget and effective. Its dedicated team work as extended members of the client's business to efficiently exceed customer and client expectations. For more information visit http://www.garmentprinting.co.uk.