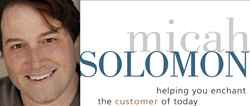 Helsinki, Finland (PRWEB) August 29, 2013
Customer service consultant, speaker, and bestselling author Micah Solomon (Seattle/Philadelphia/U.S./U.K./Europe/Asia) has been announced as keynote speaker on customer service, high-tech, high-touch customer service, and millennial customer service at the Customer & Sales SUMMIT! 2013 in Helsinki, Finland 26-27 Nov 2013, one of the major European and Scandinavian customer service and sales events of the year.
Bringing the latest customer service best practices and trends from the U.S. and around the world, bestselling author and customer service consultant Micah Solomon will speak on "High-Tech, High-Touch Customer Service" in a presentation based on his bestselling book of the same name.
Improving customer service and the customer experience including the latest trends embraced by the incoming cohort of millennial customers is one of Micah Solomon's expert areas of focus. He has offered keynote speaking and consulting, and written on customer service, customer experience, and customer loyalty to audiences recently in:
The Automotive Industry • Banking & Financial Services • Insurance • Law Firms • The Building Trades • B2B & Manufacturing • Healthcare • Not-for-Profits • Death Care • Technology & IT • Event Staging • Hospitality • Retail • Communications • The Travel Industry • Real Estate • People with Disabilities
Micah Solomon's books on customer service, the customer experience, customer loyalty, and hospitality have now been translated into nine languages and won multiple awards, including having recently been chosen by the Best Small Business Book Awards among the top business books of 2013. The books are also available in audiobook format on Audible.com.
About the Customer & Sales SUMMIT! 2013, and Talentum Events
Talentum Events is arranging an annual Customer & Sales SUMMIT! 2013, which will take place in 26-27 November 2013 in Helsinki, Finland. There will be 3 different streams in the program which are: Customer Service, CRM and Sales Management. Collective keynote-presentation starts and ends both days. Please find the website here:
http://www.talentumevents.fi/tapahtumat/leadingevents/customer++sales+summit+2013/a2180577 or click here for English translation.
About Micah Solomon
Micah Solomon was recently named a "new guru of customer service excellence" by the Financial Post. His latest business bestseller, "High-Tech, High-Touch Customer Service," as well as his perennial bestseller, "Exceptional Service, Exceptional Profit" (a collaboration with the creators of the modern-day Ritz-Carlton), have won multiple awards. His expertise has been featured in Inc. Magazine, Bloomberg BusinessWeek, CNBC, Forbes, and the Harvard Business Review.
As the lead customer service consultant and customer loyalty consultant at Four Aces, Inc., Micah Solomon specializes in helping companies, governmental agencies, and other other organizations build customer service initiatives and customer loyalty transformations that provide both immediate results in today's challenging business environment and significant sustainability over time.
As a keynote speaker, Micah Solomon's uniquely inspiring and humorous keynote speeches on customer service and customer loyalty convey his passion for everything that makes a business great, delivered in his famously relaxed and friendly 21st-century speaking style. Micah is legendary for engaging his audiences through his sincerity, his genuine passion for his clients' success, and his unique visual presentation style - no stock photos here, just real life examples.
An entrepreneur and business leader himself, Micah used the techniques he speaks about to build his company from a one-man home operation into a market leader in the manufacturing and independent entertainment field—a story well known to readers of FastCompany and Seth Godin's marketing bestseller Purple Cow. Micah was also an early investor in the Apple-related speech recognition technology behind Apple's Siri.
For more information, please contact Four Aces Inc: info(at)micahsolomon(dot)com, (484)343-5881.