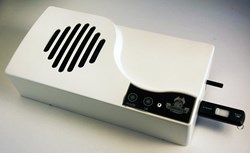 You Cant Knock It
Sparta, NJ (PRWEB) August 30, 2013
The components and assembly of the MP3 doorbell have been out-sourced to several manufacturers in California and New Jersey and remain high quality as well as durable. The Tommyknocker is built to last the life of the home according to Predominance LLC, just as the old solenoid doorbells of the 1930' and 40's. Assembly begins with a heavy gauge steel chassis, not plastic, that mounts the 10 watt 4" full range speaker. The speaker is then bolted on steel stand-offs, secured with nuts and washers. The same chassis also serves as the mounting template for the PC Board, screwed on the unit with washers to keep vibration to a minimum. Buttons are assembled to the chassis with screws, not glue, to the outer housing. Data communication between the buttons and the PC board require a bundled pigtail, shrink wrapped and secured with clips. Then the entire housing is secured with screws fixing it to the chassis and offers a retro look reminiscent of a 1950's radio.
Currently the Tommyknocker comes in white and offers do-it-yourself home owners a simple guide to install this doorbell in the home. Predominance LLC says that most homes are already wired with a 24 volt doorbell transformer, so the Tommyknocker may be easily adapted to existing wiring already available. It comes with a heavy mounting template, hardware and wiring pigtail to simplify installation. The doorbell also ships with a USB stick, loaded with MP3 files for immediate enjoyment.
The Tommyknocker is the only patented USB MP3 digital doorbell in the USA. Predominance LLC is hoping to expand on available models by offering stereo, a wireless button kit and smart phone technology in future machines. When honoring Labor Day, consider "Made in the USA" on any product produced proudly in the United States. Visit http://www.tommyknockerdoorbell.net for more information.