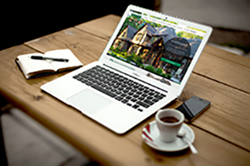 Utilizing today's new media correctly is critical for organizations in rebounding industries – especially the building industry.
Cleveland, Ohio (PRWEB) August 30, 2013
With the building and remodeling industry rebounding strongly after the recent downturn, award-winning local builder, Payne & Payne, decided it was time to leverage new media through a strong Internet presence.
"With the home building industry strongly rebounding we knew we needed a fresh digital strategy to show off our capabilities and dedication to our customers," said Mike Payne, President of Payne & Payne Builders, "What we were looking for was the right blend of technology and personal communication with clients."
Payne & Payne's new website (http://www.payne-payne.com), designed and built by Company 119, (http://www.company119.com) is now the cornerstone of their marketing strategy. Through a variety of digital media tools, they have improved client accessibility and have gained new customers. Included on the site is a method for clients to build a profile of their new home using a custom design gallery. A custom mapping tool helps visitors to locate and request information regarding particular properties and their availability. A video introduction of staff members and current projects gives viewers a true feel of the company and their method of operation. The site is also integrated with a third party grading system, giving Payne & Payne clients access to their online reviews. (http://www.guildquality.com/cr/Payne-Payne-Builders/9KJ39701823SZC/)
"Utilizing today's new media correctly is critical for organizations in rebounding industries – especially the building industry," said Payne, "What we have learned is that though we are running a traditional family business, our clients want to be able to access us anywhere they are. They want to see our capabilities and they want to know more about how we can help them. We hope to lead the industry in applying digital marketing tools and growing through our new website and other Internet-based tools."
With a dramatic homepage design, expansive pictures, simple to use navigation and clear content, potential home owners and those interested in remodeling services can quickly access the information they need on the Payne & Payne site. Access to social media directly from the website, as well as easy-to-find communication tools have impressed potential customers. "We couldn't be happier with the result," said Payne, "The feedback from our clients is that they can quickly understand what makes Payne & Payne different and they can easily access our company for more information. We have seen the results in our bottom line already."
For more information on the Internet marketing services offered by Company 119 or to schedule an interview with Christian Klein, CEO of Company 119, call 440.332.0581 or email info(at)company119(dot)com.