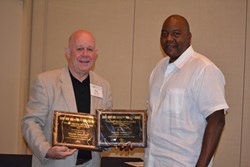 Oakwood, GA (PRWEB) August 30, 2013
Eleven Wayne Farms' facilities were recently honored by the Joint Industry Safety and Health Council for outstanding safety performance by implementing innovative and effective safety and health programs at the 2013 National Safety Conference for the Poultry Industry on Amelia Island in Florida.
Two of the award-winning facilities located in the Pendergrass complex received Awards of Distinction, the highest accolade offered. The Clermont hatchery and the Pendergrass processing plant are both located in Georgia.
Eight Wayne Farms facilities received Awards of Honor. These include the fresh processing plant located in Union Springs, Alabama; the fresh processing and two further processing plants located in Decatur, Alabama; the Troy, Alabama, Elkin, North Carolina and Danville, Arkansas Hatcheries; and the Dobson, North Carolina Feed Mill.
The award of Merit was bestowed upon the Laurel, Mississippi Feed Mill.
In addition to traditional safety practices, Wayne Farms has implemented a behavior-based safety initiative called WorkSAFE, which focuses on helping employees identify unsafe behaviors and remain conscious of their environment and potentially dangerous situations.
"We are extremely proud of the safety programs managed by the Supervisors and Compliance Managers throughout Wayne Farms," says Reggie McLee, Director of Safety and Loss Prevention for Wayne Farms. "I credit the hard work and consistent attention given to our safety processes. Our teams always keep workplace safety top of mind and are constantly looking for new and innovative ways to improve our solid programs."
Award consideration was based on injury statistics over three years and an evaluation of written applications by three judges: Gary Pohlmann of Marsh Risk Consulting, Doug Britton, program manager for Agricultural Technology Research at Georgia Tech Research Institute, and George Nassif of Aon Global Risk Consulting.
The Joint Industry Safety and Health Council are comprised of members from the U.S. Poultry & Egg Association, National Chicken Council, and National Turkey Federation. Collectively, the three organizations represent companies that produce 95 percent of the nation's poultry products and employ over 300,000 workers.
# # #
About Wayne Farms LLC
Wayne Farms LLC is the sixth-largest vertically integrated poultry producer in the United States with annual sales exceeding $1 billion. A subsidiary of Continental Grain Company, Wayne Farms owns and operates 11 fresh and further-processed facilities throughout the Southeast, produces more than two billion pounds of poultry products each year, and employs more than 9,800 individuals.