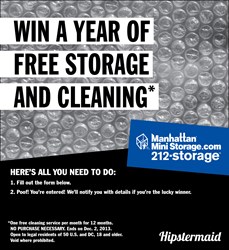 New York, NY (PRWEB) August 31, 2013
Hold on to that bowling trophy collection, and throw out your moldy old mop. Because Manhattan Mini Storage, New York City's self-storage leader, is teaming up with Hipstermaid, the city's favorite new cleaning service, to offer the prize of a lifetime: free storage and cleaning for an entire year.
Stacy Stuart, Executive Vice President of Marketing and Human Resources at Edison Properties, the parent company of Manhattan Mini Storage, explained the genesis of the contest: "We were trying to think what would be a typical New Yorker's dream come true. And we realized the only thing better than coming home to a neat, organized apartment, with all your extra stuff safely stored away, would be to also have your apartment professionally cleaned. Hipstermaid was an obvious partner, because in addition to being great at what they do, they have a hip, fun attitude and sense of humor – just like us."
"Space is tight in NYC, and you can't have a real party with five broken down bikes crowding your dance floor," adds Cathy Tang, Hipstermaid Co-Founder and CEO. "That's why we're thrilled to partner with Manhattan Mini Storage. Cleaner apartment, more space, more dancing. Win-win-win!"
This no-purchase-necessary contest is open to anyone with a Facebook account and runs through Dec. 2, 2013. People can enter by logging into Facebook and clicking here. The winner gets free rent on a Manhattan Mini Storage room for a year, plus Hipstermaid cleaning service every month for 12 months.
Edison Properties is the family-owned parent company of Manhattan Mini Storage, New York's self-storage leader and one of the city's favorite brands, thanks to their famous subway ads and billboards. They also own and operate Edison ParkFast – 40 garages and lots throughout New York City, as well as Northeastern New Jersey and Baltimore. Other properties include WorkSpace Offices, Executive Offices and Pre-Built Suites, The Hippodrome office building and the Ludlow, a luxury residential high-rise on the Lower East Side.
For more information about Manhattan Mini Storage, visit http://www.ManhattanMiniStorage.com. And to learn more about Edison Properties, please contact Stacy Stuart, Executive Vice President of Marketing and Human Resources, at 973-849-2556.
Hipstermaid is a home cleaning startup that offers instant online booking, a team of top-tier cleaning professionals and all-natural cleaning products. Started in 2012 by two former New Yorkers, Hipstermaid is now active in Manhattan and Brooklyn. For more information, visit http://www.Hipstermaid.com.