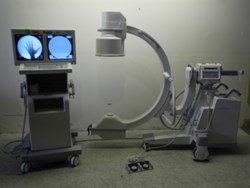 Las Vegas, NV (PRWEB) August 30, 2013
The world's largest medical auction house, Centurion Service Group, will be hosting their next Las Vegas auction on September 10, 2013. The auction, which will take place at their Las Vegas location (4606 Andrews St. Suite 3, North Las Vegas, NV 89081), will feature previously owned medical equipment of all types, making it a one-stop shop for all medical equipment buyers. Anyone can participate in the auction, including those who cannot make it on site. Centurion Service Group offers online simulcast bidding, as well as theater style bidding.
A few highlights of the sale are: two GE OEC 9800 Vascular C-arms, Zeiss OPMI CS-XY Ophthalmic Dual Binocular Microscope, Luminex 100IS Benchtop Biomolecular Analyzer, Nellcor Puritan Bennett 840 Ventilators and nine Datex Ohmeda Aestiva 5 Anesthesia Systems. The company's website, http://www.centurionservice.com, contains a full list of the auction's lots, complete with photos.
About Centurion Service Group, LLC
Centurion Service Group hosts medical auctions monthly at their Chicago and Las Vegas warehouses and sell over 100,000 pieces of equipment yearly. In addition to their auctions, Centurion provides complete medical surplus management for healthcare facilities including certified appraisals, trade-in value verification, asset and facility inventories, relocations and closures.