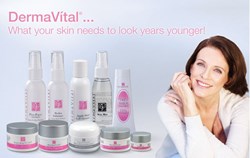 Richard Ransom, ICTV's President and Chief Financial Officer stated, "The new website is the next step in the expansion of the DermaVital brand
Wayne, PA (PRWEB) August 29, 2013
(PRWeb.com via COMTEX) - International Commercial Television, Inc. (OTCQB: ICTL) ("ICTV" or "the Company"), a company employing prominently profiled infomercial campaigns to market and brand unique products to the global consumer through multi-channels of distribution, is pleased to announce that it has launched a brand new website for its DermaVital skincare line.
The new DermaVital website address is http://www.dermavital.com. The website will allow customers to purchase each of the thirteen individual products in the DermaVital line, as well as special packages and deals that will be updated regularly. ICTV plans to initiate web and email marketing to drive current and potential DermaWand and DermaVital customers to the new website.
Richard Ransom, ICTV's President and Chief Financial Officer stated, "The new website is the next step in the expansion of the DermaVital brand. This site will allow us to better communicate with our customers and for the first time, allow them to customize packages of DermaVital products that suit their individual needs."
International Commercial Television is a public company trading on the OTCQB under the symbol ICTL. The OTCQB is a dynamic electronic stock market consisting of SEC fully reporting companies. OTCQB stocks may be electronically traded through most major brokerages such as E- Trade, Scottrade and TDAmeritrade.
FOR FURTHER INFORMATION PLEASE CONTACT: International Commercial Television, Inc. Rich Ransom, Investor Relations 1-484-598-2300 Email Contact: ransom(at)ictvonline(dot)com Website: http://www.ictvonline.com SOURCE: International Commercial Television, Inc.