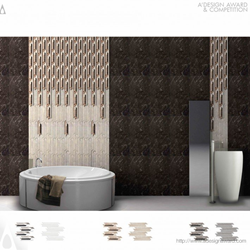 Como, Italy (PRWEB) August 31, 2013
A' Design Award and Competitions are proud to tell that the work Stone & More by Şule Koç for Kaleseramik has been announced as a winner of the notable Golden A' Design Award at Building Materials, Construction Components, Structures & Systems Design Competition chosen as a winner by the international referees of the A' Design Awards & Competitions among numerous submissions.
Winner Design: Stone & More
The Stone&More wall lining collection, which aims to reunite natural stone with the modern time users was designed to remove the démodé perception and renew it. The collection that also corresponds to the product approach and philosophy of designer has brought natural stone to life, with an inquisitive and innovative product approach to create productivity, sustainability and awareness. The product benefits of variety of stone textures employing new forms and used within the series of "Vertical" and "Eclipse" which has strong design languages and personalization ability.
To learn more about this design, please visit: http://www.adesignaward.com/design.php?ID=26871.
The Golden A' Design Award
The Golden A' Design Award is a prestigious award given to top 3% percentile designs that has accomplished an exemplary level of excellence in design. The designs are judged by a panel of three different jury which is composed of Academic, Professional and Focus Group Members. The designs are evaluated with score normalization to remove any biases and are voted on aspects such as functionality, ergonomics, engineering, presentation, innovation, usability, fun details, technology, and any other specific points that could be considered, each of these points are further weighted for different jury groups.
About A' Design Award and Competitions
A' Design Award and Competitions, aims to highlight the excellent qualifications of best designs, design concepts and design oriented products. A' Design Award and Competitions are organized and awarded annually and internationally in multiple categories to reach a wide, design-oriented audience. Learn more at: http://www.whatisadesignaward.com