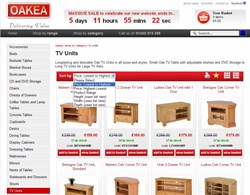 card fraud is down 36% from its peak since the introduction of Chip and Pin
Hereford, Herefordshire (PRWEB UK) 30 August 2013
Oak furniture retailer OAKEA today announced the launch of a new payment on delivery system, using a Mobile Chip and Pin device. The new system will allow customers to pay at the point of delivery with a credit or debit card.
Those who buy direct from OAKEA's Hereford Showroom have always been able to pay by Chip & PIN for their oak furniture. Payment by card on delivery has many advantages, including a speedier ordering process and offering peace of mind for those ordering larger items such as oak sideboards, wardrobes or beds. According to Craig Jones, from the UK Card Association, in an interview with the BBC, card fraud is down 36% from its peak since the introduction of Chip and Pin.
OAKEA hopes to begin rolling the new mobile devices out across their delivery vehicles in the coming weeks. The company also offers other options for customers who, for their own reasons, may not want to pay for their furniture by card. Online customers can still choose to pay over the telephone or to pay by cheque on delivery. "Many may still choose to pay by card via the secure website, but it gives an extra option for those who are used to, and prefer to pay by, Chip and Pin" commented OAKEA's MD Henrik Pontoppidan.
For customers who choose to provide payment details in advance, the payment is not processed until the items are ready for dispatch – meaning the customer keeps their money until they are ready for their items. "I believe this is quite unique to us, and means that if a customer is not ready for their oak furniture for a couple of weeks, we are not sat with their money" added Henrik.
OAKEA designs and imports its own ranges of oak and pine furniture. The company launched in 2006 with a warehouse and showroom in Hereford. A relaunch of the website in early 2013 saw an increase in online sales and greater demand for flexible payment options. The company currently produces four ranges of oak furniture and a pine bedroom collection. The collections range from the super-modern through to the traditional, all with an emphasis on multi-functional items such as flexible oak wardrobes and a multi-use oak cupboard/desk.