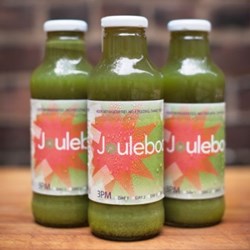 New York, NY (PRWEB) August 30, 2013
Through the years there have been many studies examining the benefits of cold-pressing juices, but studies show there are even more benefits when the whole ingredient are blended. Yvette Rose founder of Joulebody cleanses says "The blending process breaks the fibers apart making the fruit and vegetables easier to digest but also helps create a slow release of nutrients into the blood stream and avoids blood sugar spikes." She continued with, "They tend to be more filling, because of the fiber, and generally faster to make than juice, so they can be great to drink first thing in the morning as breakfast, or for snacks throughout the day. You can also pack more servings of fruits and veggies into a single serving of juice than you can into a smoothie."
Joulebody Juice Cleanses are the only true whole food juices available that contain scientifically proven disease fighting ingredients. Joulebody also adds ingredients that are powerful ANTI-INFLAMMATORIES which are essential for human bodies well-being. All of Joulebody cleanses are Infused with herbs like turmeric, cayenne - as well as blended seeds, whole food veggies, for a full balanced liquidized meal.
"Cold-pressed juices are yesterdays way of juice cleansing. It seems counter intuitive to me to take an already nutritiously packed vegetable and strip it of its fiber. The way the blenders are made today, it's really simple to toss it in the blender and juice it up," says founder Yvette Rose.
CAYENNE AND DETOXING
Cayenne has "capsaicin", which has been proven effective to relieve pain, for psoriasis, and weight loss. According to the University of Maryland Medical Center, can be used to relieve pain, for psoriasis, and weight loss. Keeping all the nutrients and fibers to help digestive organs replenish.
TURMERIC AND DETOXING
According to Memorial Sloan Kettering Center, Turmeric can be used as anon-steroidal anti-inflammatory drug.
Yvette Rose listed the following benefits of the Joulebody Cleanses:

All Natural Vegetarian Ingredients
Cancer, heart disease, arthritis fighting free radicals
Cleansing and detoxing
Whole food ingredients
Delicious tasting
Like a full meal in a bottle
THE INGREDIENTS
All ingredients used are high in inflammation-fighting carotenoids and fight free radical damage and reduce risk of cancer.
RAW AND GREEN JUICES INCLUDE

Turmeric
Chia Seeds
Cayenne
Flax seeds
Fennel
Hemp seeds
Green Leafy Vegetables
ABOUT JOULEBODY
Joulebody was founded by Yvette Rose, a New York City nutrition specialist, yogini and fashionable mother of two. Joulebody is also maker of the Joulebody Detoxifying Meal Brownie and Blondie bars. All Joulebody products are 100% natural and made from whole foods, spices, herbs, are gluten-, sugar-, wheat-, nut-, preservative-free and designed to kick start the body's natural cleansing processes. All packaging is 100% recyclable glass and paper.
Joulebody cleanses are available nationally at Joulebody.com