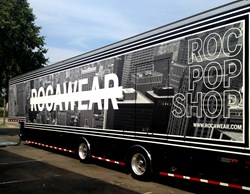 Madison Heights, Michigan (PRWEB) August 29, 2013
Rocawear's RocPopShop is spending this Labor Day weekend at the "Budweiser Made in America" concert series in Philadelphia. The upscale lounge and retail space will be parked on Benjamin Franklin Parkway downtown. On Aug. 31st and Sept. 1st, fans can experience the Rocawear brand and lifestyle up close and personal during the concert series, which features performances from Beyoncé, Nine Inch Nails, Macklemore & Ryan Lewis, and Phoenix to name a few.
Complete with a full range of signature men's and women's Rocawear apparel and accessories, the RocPopShop provides a VIP shopping experience for Rocawear devotees, and the perfect opportunity for visitors to immerse themselves in the Rocawear lifestyle.
Built by Michigan-based Company MRA, the Rocawear RocPopShop is housed in a 53-foot trailer that expands into 1,000 square feet. In addition to being a pop-up retail space, it's the ultimate interactive lounge. Guests can get comfortable on the custom-designed couches and leather chairs, listen to hip-hop music from the past to the present, watch special edition concert performances and test their gaming skills on the in-trailer Xbox station.
"The RocPopShop takes Rocawear to its fans and lets visitors interact with one of their favorite brands in a meaningful way," said Tony Amato, President of MRA. "We've been a partner with Rocawear on the RocPopShop since the onset and are thrilled to be part of this unique pop-up shopping experience."
The RocPopShop will be open both days from 11 a.m. – 11 p.m. For more information, contact Elizabeth Hoelscher. High resolution images are available upon request.
ABOUT MRA, INC.
MRA experiential tours & equipment is an industry leader in mobile exhibit and event marketing. It specializes in custom design, vehicle assembly, and vehicle sales and leasing, as well as tour equipment and logistics-management services for the experiential marketing and exhibiting needs of museums and many Fortune 1000 firms, working either directly or in association with leading agencies and exhibit builders worldwide. Visit http://www.goMRA.com and http://www.youtube/MRAmobiletours.