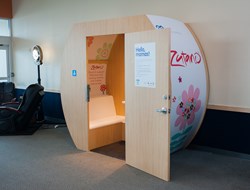 Burlington, VT (PRWEB) August 30, 2013
Mamava, maker of design solutions for nursing mothers on the go, and Burlington International Airport announced the installation of a first-of-its-kind lactation station in the second-floor terminal post-security checkpoints. The freestanding kiosk provides a clean, comfortable, and secure place for women who need to use a breast pump or want to nurse in privacy.
The idea for Mamava was born when cofounder Sascha Mayer faced the challenges of breastfeeding while having to travel for work. "Women who work away from their babies need to use a breast pump every few hours, and until now the only private place to do that while traveling was in a restroom or car. Neither of which are particularly private or sanitary. We believe that women deserve better."
Gene Richards, the director of Burlington International Airport, was introduced to the Mamava concept back in 2010. He immediately saw the need to provide better accommodations for nursing mothers at Burlington International and worked with Mamava to create a Nursing Mothers' Lounge last May that could be used by both passengers and employees of the airport. The Mamava lactation station is an additional amenity the airport is providing for nursing women. "BTV is delighted to have the opportunity to work with Mamava to provide the traveling public with the world's first breastfeeding and pumping module located within an airport. By partnering with Mamava, we can ensure that BTV continues to exceed the needs of travelers and lead the way for breastfeeding and pumping modules in airports around the world."
The Mamava lactation station will feature seating, a fold-down table and power supply for pumping, and space for luggage or a stroller. Breastfeeding is welcome anywhere at the airport, but the Mamava unit will provide a comfortable place for nursing mothers who might want more privacy (or for babies who might need fewer distractions).
The Mamava at Burlington International Airport is sponsored in part by Zutano and G3K, both Vermont-based companies. This first Mamava will feature graphics based on prints from Zutano's line of whimsical kids' clothing. G3K is the design engineering and manufacturing partner behind Mamava.
"According to UNICEF, support, education, and counseling can increase exclusive breastfeeding by up to 90%," says Michael Belenky, president of Zutano. "As a small business, our goal has always been to support working mothers and honor the needs of nursing mothers in the workplace. Sponsoring Mamava is a wonderful opportunity for us and we hope this makes its way to airports around the world."
August was National Breastfeeding Month. Major strides are being made to support women with their choice to breastfeed. The passage of the Affordable Care Act in 2010 made it a requirement for employers with more than 50 employees to allow for breaks to use a breast pump or nurse a child, and to provide a private room other than a bathroom for that purpose. In 2011, U.S. Surgeon General Regina Benjamin published a "Call to Action to Support Breastfeeding." This year, a regulation in the Affordable Care Act went into effect that requires insurers to cover the costs for breast pumps and lactation-support services.
About
Mamava, based in Burlington, Vermont, was incubated at world-renowned design studio Jager Di Paola Kemp Design. Mamava creates design solutions for nursing mothers on the go. We believe that a woman should be able to breastfeed her baby anywhere she wants. We also know there is a need, especially in high-traffic public areas, for a private and comfortable place to nurse or use a breast pump.
Zutano is inspired by babies every day. One of the most beloved and influential brands in children's fashion and a leader in exciting design innovation, Zutano began with a simple idea that was inspired by the arrival of Michael and Uli Belenky's first daughter: Create high-quality clothes with a variety that comes from mixing and matching prints, patterns, and textures. The result was a lovingly designed line of baby clothes every bit as unique as their precious daughter. Zutano's progressive Baby-to-Work program, which allows working mothers to bring their baby to the office for the first year of life, has set the standard for companies implementing similar human-resource efforts around the U.S. Zutano strives to support a nurturing world for babies to come into. Zutano is a solid example of a sustainable global business based in the hills of Cabot, Vermont. Zutano is available at more than 1,500 gift and specialty boutiques and retailers worldwide, as well as on the web at select e-tailers and Zutano.com. New York's famed FAO Schwarz houses a 500-square-foot Zutano boutique, which carries the entire line of sweet and sophisticated designs.
Burlington International Airport is northern New England's most convenient and welcoming airport. BTV is just ten minutes from Lake Champlain, an hour from five world-class mountain resorts, and only one hour and forty-five minutes from Montreal. Business and leisure travelers alike appreciate BTV's friendliness, excellent on-schedule record, and direct flights to many major cities.
G3K began as two companies, G3 and Kiosko, both experts in the 3-D retail display field. The companies have merged to form a strategic marketing alliance that delivers as one, with a multidisciplinary approach that encompasses everything from prepress, development, prototyping, and engineering to global logistics, manufacturing, and implementation.