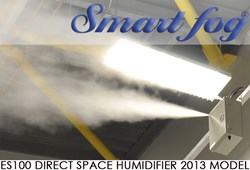 Humidity is a essential component of printing
Reno, NV (PRWEB) August 30, 2013
This week, Smart Fog introduces a specially optimized non wetting humidifier design for printing and paper storage. The new system is ideal for printing and storage humidification.
Smart Fog commercial humidifiers enables the printing operators to reduce paper curls, paper cracks and eliminate entirely mis-registers and web-breaks.
Maintaining precise non fluctuating humidity levels with +/- 1% accuracy throughout the facility allows the system to eliminate electro static discharge (ESD) and provide a safe environment for the operators and the commercial printers.
High end commercial printers are sensitive to dust. Dust buildup can cause a variety of mechanical and electrical failures. Smart Fog inbuilt dust suppression technology suppresses all the dust to the floor creating a clean and comfortable environment for both the equipment and operators.
Smart Fog systems feature easy installation and low maintenance. Smart Fog ships the printing humidification systems worldwide providing comprehensive warranty coverage to every part of the globe. All parts and fittings utilize push to connect technology aiding installers to complete installation in a fraction of the time compared to conventional systems. The commercial humidifier come with a full set of step by step installation manuals geared towards allowing anyone to install the Smart Fog system.
Smart Fog is presenting a fully functioning commercial humidification system at booth number 3550 of the Print 13 exhibit in Chicago.
About Smart Fog Inc.
In business since 1980, Smart Fog Inc. is the recognized world leader in non-wetting commercial and industrial humidification solutions. Smart Fog's unique technology provides precise humidity enforcement, light speed uniform coverage and intelligent non-fluctuating humidity control. All Smart Fog products are engineered and manufactured in the USA.
For more information, visit: http://www.smartfog.com