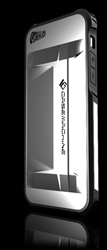 Miami, FL (PRWEB) August 29, 2013
Casemachine revealed the famous i5 Slimline v2 case for Apple iPhone 5 in May when it was presenting its latest innovative designs and creative racecar inspired concepts to the attendees of the International Consumer Electronics Show 2013. The company received a warm welcome for its innovation and creativity.
The i5 Slimline v2 for Apple iPhone 5 is designed for a better grip and a tighter grab than its predecessor, the i5 Slimline Flex case. Casemachine's premium proprietary HDI silicone frame helps the slip-on hybrid offer elite drop protection at all times. Casemachine has also produced convincing test results clearly signaling that the new i5 Slimline v2 for Apple iPhone 5 withstands far more impact than most other bumper cases available in the market.
The company has released the new i5 Slimline v2 case in many different shades taken off of the official paint codes of different exotic racecars. Casemachine's design engineers have placed special attention to each and every detail just so that the case feels premium to the touch and provides users true value for money.
Unlike its predecessor, Casemachine i5 Slimline v2 for Apple iPhone 5 will also have ribbed corners for tighter grip on the phone from the sides and the latest StretchTight engineered silicone material from Casemachine will assure that a case-less feel of the iPhone is provided to users without taking away the phone's inherent beauty.
For the protection of the rear panel and to add a more elegant look to it, Casemachine has added the branded Alcantara suede backplate in black color and a rich weaved pattern. The backplate will not just add style but will also provide great shock resistance and scratch immunity to the delicate glass back of Apple's iPhone 5.
With the new i5 Slimline v2 case for Apple iPhone 5 now shipping worldwide, Casemachine expects to witness an overall increase in demand as the anticipation for the new iPhone 5S pour in and create hype amongst users. The company is expected to face significant increases in demand later this year following the launch of the new iPhone 5S and Casemachine has already made preparations for excellent customer support round-the-clock.
For a completely customized look of the iPhone, users can also opt for the optional dimensional backplate v2.0 through the official Casemachine store. For further information, please contact Casemachine at 305-818-9933.