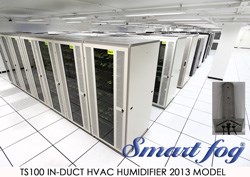 Since we installed Smart Fog, the data center became clean, no dust or other organic pathogens.
Reno, NV (PRWEB) August 30, 2013
This week Smart Fog introduced a humidification system for mission critical data centers. The system features 100% water efficiency, low energy consumption and low maintenance.
Engineered for mission critical operations Smart Fog commercial humidifier operates 24 hours a day 7 days a week with zero downtime. The only maintenance requirement for the entire system is changing filter elements every 24 month. The entire maintenance takes 5 minutes and does not halt the systems operation.
Smart Fog double cooling effect technology enables the data center to cool the air both the intake air and within the distribution ducts without and condensation or drains.
Smart Fog systems feature clean humidity. The system eliminates dust and prevents bacteria, mold and other organic pathogens to enter or grow in the targeted environment.
Smart Fog humidification system suppresses the finest dust partials utilizing the patented de-correlation technology. The adhesion in the fog ensures the air in the targeted area is dust free.
Smart Fog features 100% water efficiency. The system utilizes 100% of water to perform the desired function, humidity generation, cooling or dust suppression. No water enters the drain and no energy are wasted. Smart Fog is a truly green system.
At full capacity, Smart Fog systems feature the lowest energy consumption in the industry. The system only utilizes 0.1 w per 1,000 sqf of the targeted area. Many facilities do not see any change in the energy bill after installing the Smart Fog system.
About Smart Fog Inc.
In business since 1980, Smart Fog Inc. is the recognized world leader in non-wetting commercial and industrial humidification solutions. Smart Fog's unique technology provides precise humidity enforcement, light speed uniform coverage and intelligent non-fluctuating humidity control. All Smart Fog products are engineered and manufactured in the USA.
For more information, visit: http://www.smartfog.com