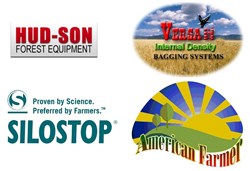 (PRWEB) August 30, 2013
DMG Productions proudly announces an upcoming episode of American Farmer, which will air on Tuesday, September 3, 2013 at 8:30 a.m. EST on RFD-TV.
From seed to harvest, livestock and more, American Farmer explores the people, places, and revolutionary technologies impacting all corners of farm country.
In this episode, American Farmer audiences will learn about Bruno Rimini Corporation, makers of Silostop® total oxygen barrier film™, a thin and clingy plastic used underneath traditional polyethylene plastic to help preserve bunker or piled silage. Viewers will be amazed by Silostop's results in minimal feed loss, and ability to improve the producer's bottom-line.
American Farmer will also explore Hud-Son Forest Equipment; manufacturers of equipment for a myriad of applications, from forestry to wood art and more. Audiences will be educated on the company's global presence, and how they continue to keep pace with technology by refining and updating their equipment for the manufacturing of portable sawmills, remote controlled winches, wood conveyors and more.
In addition, the show will feature Versa Corporation's revolutionary silage bagging equipment, which enables farmers to realize a 20 percent savings on forage loss. Spectators will see that Versa's silage baggers are among the safest and easiest machines to operate—with smoother packed bags in all feedstuffs—offering more tons per storage area.
About American Farmer:
American Farmer is a breakthrough program on a mission to showcase the latest advancements in agriculture and farming. From seed to harvest, livestock and more, our producers have traveled the country covering the people, places and issues impacting all areas of farm country.
American Farmer airs Tuesdays at 8:30am EST on RFD-TV as well as Saturdays at 1:30pm and Midnight EST on RURAL-TV.
For more information visit: http://www.americanfarmertv.com or call (866) 496-4065.
Media Contact:
Charlie Cowan, Producer / American Farmer
(866) 496-4065 x 875 / charlie(at)americanfarmertv(dot)com