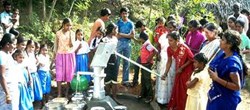 One in eight people has never tasted fresh drinking water
Ft. Lauderdale, Florida (PRWEB) August 30, 2013
Globally, one in eight people has never tasted fresh drinking water, and 3.4 million people die each year from a water-related disease. Airconergy's "Save Energy and Save Lives" campaign supports drop4drop.org with funding for new freshwater wells in the developing world. For every energy-saving HVAC Smart Chip sold, drop4drop receives funding to drill a new well for a village.
Drop4drop is a global organization that works with businesses and individuals to offset their water consumption by funding accountable, efficient drinking water projects in the developing world.
"Drop4drop are delighted to be working in conjunction with Airconergy and the Save Energy Save Lives program," said Sam Pyant, Charity Coordinator for drop4drop. "Airconergy have made the very generous pledge, through our life-changing water projects, to provide a child with fresh, clean drinking water for life for every product they sell. We are delighted to have them on board with the clean-water-for-all movement."
Airconergy helps people worldwide lessen their heating and cooling costs with the HVAC Smart Chip. "Every sale of the HVAC Smart Chip enables us to support drop4drop," said Pamela Pincus, Vice President of Public Relations and Marketing for Airconergy. "Our goal is to drill wells for thousands of people year after year," Pincus added.
The HVAC Smart Chip is a simple device designed to be easily retrofitted to residential and commercial HVAC systems, saving 12–20% on space heating and cooling. The device has been tested on leading manufacturers' equipment, with energy savings verified by the California Energy Commission.
Airconergy is using sales of an energy efficient product to simultaneously cut energy usage and provide people with fresh drinking water for life.
###
Contact: Pamela Pincus
Telephone: 877-887-7766
Email: pamela(at)airconergy(dot)com
Twitter: twitter.com/HVACCHIP
Facebook: http://www.facebook.com/AirConergy
LinkedIn: http://www.linkedin.com/company/airconergy-llc
Web site: http://www.airconergy.com