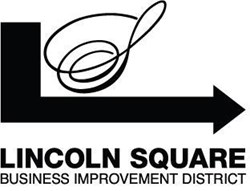 New York, NY (PRWEB) August 29, 2013
Mercedes-Benz Fashion Week is returning to New York City and Lincoln Square restaurants will be celebrating with great deals on incredible meals! The runways will be lit and the area's restaurants will be packed with New Yorkers and visitors savoring Lincoln Square BID's successful fashion week dining promotions: Fashion Plate Prix Fixe and Lincoln Square Crew Cuts.
Mercedes-Benz Fashion Week in New York runs from Thursday, September 5 - Thursday, September 12 and the Upper West Side's most acclaimed and popular restaurants are hosting exceptional deals for everyone coming to the Lincoln Square neighborhood. A Voce, Atlantic Grill, Bar Boulud, Boulud Sud, Gabriel's, Lincoln Ristorante, Loi, Nougatine at Jean-Georges, Nick & Toni's Café, Porter House New York, Rosa Mexicano, The Smith, and many others, including newcomer Asiate at Mandarin Oriental, New York offering a three course prix fixe lunch for $34, participate in this highly anticipated celebration of food and fashion. Crew members working fashion related events can even grab take-out offerings from a wide range of affordable food establishments in the Lincoln Square Crew Cuts program.
"We're always thrilled to welcome back our highly-anticipated Fashion Plate Prix Fixe and Crew Cuts programs to the Lincoln Square area as locals and visitors look forward to great deals on incredible meals," said Monica Blum, Lincoln Square BID President. "Whether or not you have tickets to check out the runway, Fashion Plate Prix Fixe is a great way to dine at some of the city's best and favorite restaurants while celebrating and experiencing the ambiance of Mercedes-Benz Fashion Week in one of the city's most vibrant neighborhoods."
"The Lincoln Square area has been the host to Mercedes-Benz Fashion Week for 4 years and each season it's exciting to see more and more businesses participate in the fashion buzz attracting insiders and local consumers alike," says Jarrad Clark, Global Creative Director, IMG Fashion Events and Properties. "Every year over $860 million is contributed to the city of New York by Mercedes-Benz Fashion Week visitors. $40 million of that stays right here in the Upper West Side, due in large part to businesses that welcome the Event and its attendees with open arms, such as those who participate in Fashion Plate Prix Fixe."
This is the fourth year and seventh season the Lincoln Square BID is supporting the event. The nonprofit business improvement district also promotes the area's diverse business, education and cultural offerings through annual events such as the Winter's Eve celebration - NY's largest holiday festival, a Lunchtime Concert Series at Richard Tucker Park, Tourist Information Ambassador Program, among others. Lincoln Square BID's neighborhood area runs from Columbus Circle to 70th Street between Amsterdam and Central Park West.
Fashion Plate Prix Fixe is open to the public for lunch, dinner and brunches during Mercedes-Benz Fashion Week. 27 restaurants are offering outstanding menu options, for example: Upper West Side staple Rosa Mexicano is featuring a $25 Prix Fixe lunch special as well a three-course dinner for only $38; The Smith is hosting a $27 three-course lunch and complimentary sparkling morning punch with any breakfast entree; and a special two-course, modern Italian weekend brunch is being offered at Lincoln Ristorante for $35. For a complete list of participating restaurants, please visit http://lincolnsquarebid.org/news/view/fashion-plate-prix-fixe-september-2013.
The Lincoln Square BID is also excited to bring back Lincoln Square Crew Cuts, designed to offer speedy and affordable dining/take-out options for the busy crews working on fashion week events. Discounts, such as 10% off breakfast, lunch and dinner, will be offered at 17 eateries in the Lincoln Square area from August 15, 2013 through September 21, 2013. Some participating restaurants include: Lincoln Square mainstays Alan's Market Place, Breadsoul Cafés, Melissa's Gourmet Deli, 'wichcraft, Old John's Luncheonette, P.J. Clarke's at Lincoln Square and others.
About the Lincoln Square BID:
The Lincoln Square Business Improvement District (BID) is a not-for-profit tax-exempt organization that was formed in 1996 by property owners, businesses and others with a stake in this Upper West Side community. Its mission is to make Lincoln Square cleaner, safer, and more beautiful, and to undertake various improvement projects. The BID's efforts are focused on supplemental sanitation and security services; the beautification of public spaces, malls, and parks; and the promotion and marketing of the area's diverse business and cultural offerings. The BID is a catalyst working with business, community and city partners to promote positive change in Lincoln Square. Its programs and initiatives are designed to showcase the rich and varied resources of this vibrant Upper West Side neighborhood.
# # #