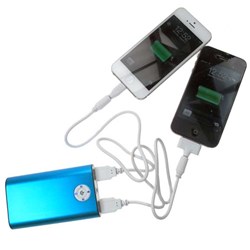 With over 90% of all Americans and half of those people with smart phones, keeping a backup power supply is no longer a luxury but a necessity
Hayward, CA (PRWEB) August 30, 2013
SF Cable, the company that made power cords and networking cables simple and affordable, is now offering a full line of 2nd generation Power Banks. As a part of SF Cable's push to expand, the new Power Banks ensure that their users are never left stranded with a dead battery again.
The popularity and demand for portable chargers has increased exponentially, especially for travelers where a dead battery can lead to critical situations. The widespread availability and proliferation of smart phones, tablets and mobile devices for business trips, international travel or vehicle navigation makes the Power Bank appealing to people from all walks of life.
Phil Truong, Product Manager at SF Cable advises,
"With over 90% of all Americans and half of those people with smart phones, keeping a backup power supply is no longer a luxury but a necessity".
This new line of Power Banks consists of 4 models for a variety of looks and functionality. All of this generation feature updated compatibility and include adapters for older Apple devices, newer Apple devices that use the Lightning connector, a mini USB, and a micro USB adaptor.
The least expensive model holds up to 2600 mAh and is a classic design that fits into any lifestyle. The next step in price has the same capacity but features a completely round body with a tough metal exterior. The next Power Bank up has an excellent capacity of 5600 mAh and comes equipped with a bright flashlight. The high end model has a massive capacity of 8400mAh and can easily charge two devices at the same time. Visit our full line of Power bank at http://www.sfcable.com/portable-power-bank.html
With these new Power Banks on offer, SF Cable is hoping to be able to provide a higher standard of product to its customers. Already news of an expanding catalog is reaching consumers and driving business to an all time high. SF Cable is expanding and preparing for a bright future!
About SF Cable, Inc
SF Cable is a retailer of computer cables and accessories at wholesale prices. SF Cable offers a complete line of standard computer cables, adapters, networking cables and power cords. SF Cable is firmly committed to providing the finest value of quality, price and service available in the marketplace. For more information, please contact SF Cable at 510-324-2299 or visit our web site at http://www.sfcable.com.