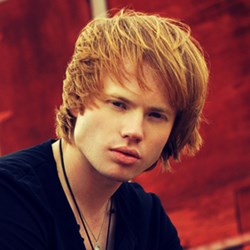 With more than 9,000 entries from all over the world, the competition was so competitive, and the finalists impressed the judges with the immense talent displayed.
Nashville, TN (PRWEB) August 29, 2013
The winners of the 2013 Unsigned Only Music Competition were announced today, representing ten genres of contemporary music. With 22 winners and 100 Honorable Mentions, the US-based competition awards over $50,000 in cash and prizes, including a $10,000 cash prize to the overall Grand Prize winner.
The overall Grand Prize winner is awarded to rising Canadian country artist Wes Mack. His song "Duet" was the overwhelming favorite with the judges who predict a great future for this young and promising unsigned artist. From the silver screen as a film and television star to sold-out performances with Florida Georgia Line, Wes Mack is quickly taking the world of country music by storm. Influenced by artists as diverse as Hank Williams and The Beatles, Mack says, "I would always listen to those tapes with my parents on long road trips through the mountains. That's where I learned the melodies and storytelling which influences me today." As an actor, Mack has built up an impressive resume, including his recurring role in the CBC Western drama, Heartland, playing an up-and-coming country musician. In the past year, Mack has been writing and recording his music in Vancouver and Nashville, and his first single "Duet," featuring Carly McKillip of One More Girl, is currently charting on Canadian country radio.
The judging panel consists of iconic recording artists Chrissie Hynde (The Pretenders), Iggy Pop, Hunter Hayes, Neon Trees, Cyndi Lauper, Dustin Lynch, Carly Simon, Brandi Carlile, John Oates (Hall & Oates), 3 Doors Down, Of Monsters And Men, David Crowder, Darryl McDaniels (Run D.M.C.), G. Love, Craig Morgan, Jason Gray, Ryan Bingham, Aaron Shust, and The Mountain Goats. Judges also include a group of influential music journalists and editors from Rolling Stone, Paste Magazine, The Washington Post, and Spin.
Unsigned Only honors artists who are unsigned to a major record label and acts as a benchmark for excellence in this arena of contemporary music. Unsigned Only is a fresh and novel approach to other music competitions. In addition to offering prizes, recognition, exposure, and the chance to be heard by a prestigious judging panel, Unsigned Only takes it a step further and offers the Grand Prize winner the once-in-a-lifetime chance to be mentored by and directly network with the top echelon of record company professionals. Mentors include presidents and top-level executives from Universal Republic, Capitol, Vagrant, RCA, Bad Boy Entertainment, Disney Music Group, Atlantic, Sony, Big Machine, Word, and G-Unit.
Founders Candace Avery and Jim Morgan said, "With more than 9,000 entries from all over the world, the competition was so competitive, and the finalists impressed the judges with the immense talent displayed. We owe a great thank-you to our dedicated judges who demonstrated their critical knowledge of music in selecting this year's winners, and we are proud to recognize these winners. We are excited to now present our Grand Prize winner to our group of mentors, and we anticipate the experience to be beneficial."
Other winners include:
Adult Album Alternative (AAA)
First Place: Streets of Laredo (Auckland, New Zealand) – "Girlfriend"
Second Place: Skipping Girl Vinegar (Melbourne, Vic, Australia) – "Chase The Sun"
Adult Contemporary (AC)
First Place: Jerzy Jung (Haddon Township, NJ) – "I Hope"
Second Place: Mikey Wax (Syosset, NY, USA) – "Counting On You"
Christian
First Place: Paul Stephens (Los Angeles, CA, USA) – "Wonder
Second Place: Skyhawk Drive (Greencastle, PA, USA) – "Whisper"
Country
First Place: Fairchild Brothers (Toronto, ON, Canada) – "I Have Your Touch"
Second Place: Rachel Honza (Nederland, TX, USA) – "Anonymous"
Folk/Singer-Songwriter
First Place: Heymun (Kuala Lumpur, Malaysia) – "By Sea"
Second Place: Ben Glover (Glenarn, Northern Ireland) – "Melodies of Midnight"
Pop/Top 40
First Place: Ginger And The Ghost (Sydney, NSW, Australia) – "Where Wolf"
Second Place: Miracle Bell (Dublin, Ireland) – Love Sounds
R&B/Hip-Hop
First Place: Teri 'Lyric' Green (Crown Point, IN, USA) – Death Of A Poet
Second Place: Tia P. (Inglewood, CA, USA) – I'm Already Tomorrow"
Rock
First Place: The Deans (Galway, Ireland) – "Lonely Like Me"
Second Place: Stefan Weiner (Northampton, MA, USA) – "Say I'm Strong"
Teen
First Place: Darla Beaux (Las Vegas, NV, USA) – "Rebel Soul"
Second Place: Lena Fayre (Los Angeles, CA, USA) – "Silver"
Vocal Performance
First Place: Nehemie (Miami, FL, USA) – "Tainted Love"
Second Place: Nikisha Reyes (London, England) – "So Cold"
Unsigned Only is sponsored by Sony Creative Software, Disc Makers, David Bean Photography, D'Addario, Mrs. Fields Cookies, The Music Business Registry, Celebrity Access, and CAD Audio.
For more information and to view the list of winners and Honorable Mentions, go to http://www.unsignedonly.com. For high-res photos and to schedule an interview with winners, contact Candace Avery at cavery(at)unsignedonly(dot)com.