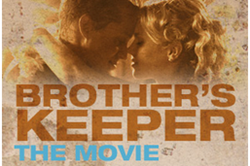 Sometimes the greatest revenge is forgiveness!
(PRWEB) August 29, 2013
The movie Brother's Keeper - In Theaters November 1st, 2013. Desert Wind Films announces the release of its feature film Brother's Keeper in partnership with heavenup.com.
The film Brother's Keeper is hitting select theaters nationwide on November 1, 2013. Revenge is popular, forgiveness is hard. This film addresses that issue in a story about murder and forgiveness under unimaginable circumstances. Brother's Keeper raises the bar on faith based filmmaking with excellent production quality and a high profile cast.
Brother's Keeper is a provocative story about murder, scandal and ultimately forgiveness. Brother's Keeper is already an award-winning film taking home Best Feature Drama award at the International Family Festival in Hollywood and Best Actor award at the First Glance Film Festival at Raleigh Studios.
Starring veteran actors Ray Wise (X-Men: First Class), Robyn Lively (Letters to God), Michael Rooker (The Walking Dead), W. Earl Brown (The Lone Ranger 2013) and country music singer Travis Tritt (Grammy award winner). Brother's Keeper is a story about twin brothers who become embroiled in scandal after a terrible twist of events. One of the brothers ends up framed for murder and put in jail. While locked up, he begins to question God as he wrestles with this cruel twist of fate. His black sheep of the family twin relentlessly struggles to find a way to help his brother in prison.
Brother's Keeper is scheduled for release to movie screens November 1, 2013. The producers have partnered up with Heavenup.com, a faith based social network and media site, to facilitate a grassroots, word-of-mouth buzz. Producer/Co-Director TJ Amato says, "Heavenup will broaden our market reach and allow heavenup.com members to 'Friend' Brother's Keeper and interact with us personally. Their site is user friendly and allows independent filmmakers like us to interact directly with our audience."
"Heavenup.com will help us strengthen our already planned theatrical release by gaining individual and church support of our mission. Heavenup enables us to showcase our film directly to individuals, churches and Christian universities by virtue of their faith-based social community," continues Amato.
"We have been blessed enough to get the film this far. We are now asking for your help," says Executive Producer, Steve Camp.
Too often our society glamorizes revenge. Brother's Keeper is a powerful reminder that only forgiveness can truly heal.
To find out how to get a private screening of the film, sermon outlines on forgiveness or promotional material to help us get the movie to a theater near you,
Contact: William Landers 217-899-4249 or heavenup.com/willie
   
To connect with us, visit our page at: heavenup.com/brotherskeeper.
To buy or reserve tickets, go to: seatzy.com/brotherskeeper.