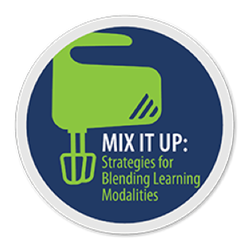 Learn how to tackle many modalities by formulating a magical blend that provides learners a meaningful, memorable, and motivational (MMM) learning experience.
Minneapolis - St. Paul, MN (PRWEB) August 30, 2013
e-Learning, ILT, Mobile, Virtual Classroom Training, Social Learning, etc. – there are many learning ingredients to consider for cooking up a successful blended solution. So, how do you tackle these many modalities, formulating a magical blend which provides learners a meaningful, memorable, and motivational (MMM) experience?
On Thursday, September 12th, Allen Interactions' senior instructional strategist, Angel Green, will present a 60-minute webinar to discuss creative strategies and methods for mixing up an engaging and fun learning experience across multiple modalities. Angel will share tried and true real-life corporate examples for building the best blended programs by applying Allen Interactions' unique and effective design principles.
In this webinar you will learn:

Strategies and methods for how to select the right mix of modalities
Design principles for creating a meaningful and memorable blended solution
Real-Life enterprise blended learning solutions
Thursday, September 12, 2013
1:00 - 2:00 PM Central
Register Here
About Angel Green
Angel Green is a senior instructional strategist for Allen Interactions' Tampa studio, where she is responsible for providing consultation and instructional design expertise to clients, partnering to build engaging, interactive learning experiences. Angel has worked for organizations such as IBM, MetLife, and PricewaterhouseCoopers, and holds both MS and BS degrees from Florida State University. An accomplished speaker, Angel has held positions as an adjunct instructor of public speaking and is past president of a Toastmasters International Chapter.
About Allen Interactions
Allen Interactions is an internationally-acclaimed company focused on improving performance through powerful learning experiences. For 20 years, Michael Allen's company, Allen Interactions, has designed and developed custom e-learning and blended training solutions to address the widely varied performance goals of the world's leading organizations. With a wealth of experience and a track record of success in instructional design, technology, creativity, and process (SAM), Allen Interactions consistently achieves positive business impact.
In addition to its service offerings, ZebraZapps is the latest breakthrough in e-learning from Michael Allen and Allen Interactions. This cloud-based authoring system cultivates the creation of meaningful and memorable learning experiences, celebrate creative authors, and invites collaboration – all via a unique, visual-based editor.