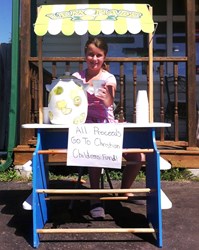 MARKHAM, ON (PRWEB) August 29, 2013
While many Canadian families are focusing on back-to-school shopping, 11-year-old Katelyn Wood of Cobourg, Ontario, is adding up her summer lemonade stand sales – and donating all the proceeds to Christian Children's Fund of Canada (CCFC).
"It is really nice to help other people. It brings more joy to help others than to keep the money and use it on something you want for yourself. You may want it, but other people need it," said Katelyn.
Katelyn has been running a charity lemonade sale event for one day every summer over the last three years. In the past, she gave the proceeds to such causes as a church mission trip to Mexico, The Tim Horton Children's Foundation and SickKids Foundation. This year, she chose to donate to CCFC because her parents sponsor two children in need overseas through the organization.
Katelyn set up her lemonade stand outside her parents' Cobourg Automotive shop, Friday August 23. She sold about 38 glasses of lemonade at 25 cents per glass, but found that her customers were very generous towards her idea to send the proceeds to CCFC as they paid more. She raised a total of $76.85 including her own $5.
"I put a sign outside my parents' shop that all proceeds would go to CCFC and everyone who saw the sign wanted to donate. I raised $76.85 in a single day, the most I have collected so far."
Even though she cannot afford to sponsor a child overseas like her parents do, Katelyn was delighted to give the money to the international development organization because it helps the "poorest of the poor".
"I felt that while I can't sponsor a child with this little amount of money, I could definitely donate it to CCFC so they can use it where they need it most", she said.
In keeping with her family's tradition of giving, Katelyn is planning to continue raising money for charity. "I like to donate money to a good cause," she said.
Katelyn is looking forward to starting Grade 7 in a new school, Dale Road Senior Public School, where she will share her story with classmates and encourage them to follow her example.
"I am looking forward to telling my friends and other children that I donated money. I hope they will help me out next summer, to continue giving to charity", she said.
Katelyn's parents are proud of her "because the fundraising effort was all her idea," says her father, Michael Wood.
"She started this on her own; it was her own idea," he said. Wood plans to continue supporting his daughter as she spreads the good word with her friends about the need to give to others.
He also plans to continue sponsoring children through CCFC. "We have to look after those who are less fortunate. We are not doing this because we have to. It is something we want to do."
Katelyn's step mom, Kelly Wood, is equally proud. "It was a very successful day. We are very proud of her and pleased to see that our customers were happy to support such a worthy cause and allow her to follow her heart in giving to those in need. Her donation is going to an area that definitely needs some help," she said.
Christian Children's Fund of Canada is a member of the ChildFund Alliance, a worldwide group of 12 child-focused development organizations working in 58 countries to implement long-lasting and meaningful changes for children and families. For more than 50 years, CCFC has helped children and families of all faiths break the cycle of extreme poverty by helping them develop the skills and resources to overcome poverty and pursue justice.
-30-
For more information, visit http://www.ccfcanada.ca. For interview opportunities, please contact:
Teresia (Terry) Mutuku
Manager, Communications
Christian Children's Fund of Canada
Toll-free: 1-800-263-5437 Ext. 221
Local: 905-754-1010 Ext. 221
tmutuku(at)ccfcanada(dot)ca