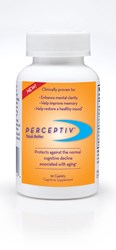 Worcester, MA (PRWEB) August 30, 2013
Adoption of PERCEPTIV™, Sevo Nutraceuticals, Inc. cognitive health formula, continues to spread across the United States. With its proven, independent clinical research, which was recently presented at the Alzheimer's Association International Conference (AAIC) in July, more and more people – from healthy adults to those with concerns about brain health – are seeing benefits from the patented cognitive formulation.
As the number of Americans living to 100 years old is expected to triple in coming decades, addressing the issue of brain health is critical. PERCEPTIV can be part of the solution. The formula in PERCEPTIV is the result of over 20 years of research and seven independent clinical studies directed by the University of Massachusetts Lowell. While most products rely on individual ingredient research, only PERCEPTIV has published studies on the complete formula. Among the many brain health benefits that PERCEPTIV provides are protecting against normal cognitive decline associated with aging, improving both memory and mood and helping to increase focus and concentration.*
Recent feedback from reviewers and customers alike are fueling the adoption of PERCEPTIV.
"Of all of the many nootropic blends available, PERCEPTIV has a unique mechanism and intensive research that others simply can't compare to….."
Corpina Nootropics - University Designed Super Stack: http://corpina.org/perceptiv-university-designed-super-stack/
"I just now retook the braintrainer test after a year of taking PERCEPTIV and my brain age has gone from 41 to 24!! That is pretty crazy but it is pretty hard to cheat on that test. My absolute brain power went from 76.82% to 94.21% and the relative brain power went from 81.4% to 95.86 %. Needless to say I am pleased with these results! And it is good to know that it lasts over the long haul and does not accommodate back to baseline." SE, Houston, TX
See http://www.mybraintrainer.com/
PERCEPTIV is available at an increasing number of over one hundred notable independent pharmacies and natural product resellers in the United States.To find a PERCEPTIV retailer near you, click http://www.thinkperceptiv.com/how-to-buy/.
Sevo Nutraceuticals will also be expanding internationally and has partners that it is considering to ensure that PERCEPTIV will be available in other countries in the near future.
About Sevo Nutraceuticals, Inc.
Sevo Nutraceuticals was established in 2012 to license and market science-based nutraceuticals. Its vision is to become a market leader in highly efficacious, scientifically researched nutraceuticals that improve people's lives. The Company's mission is to build a select portfolio of high value products with clear markets which are leaders in their category.
Sevo's cornerstone product, PERCEPTIV™, was licensed from UMass Lowell in 2012 and was developed under the leadership of UMass Lowell Professor Thomas B. Shea, Director of the Center for Cellular Neurobiology and Neurodegeneration Research.
Sevo Nutraceuticals is an Atlantic VIC portfolio company.
*These statements have not been evaluated by the Food and Drug Administration.
This product is not intended to diagnose, treat, cure or prevent any disease.