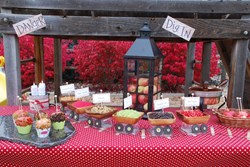 Your Magic Party Wand
Fort Collins, CO (PRWEB) August 29, 2013
Confetti Couture has changed the look and feel of their party focused website with a fresh, modern color scheme. With a combination of unique entertaining and party ideas, creative themes, and planning tools, Confetti Couture's new website is intended to guide a hostess through the party planning process.
Previously, a manufacturer and seller of bakery supplies alone, Confetti Couture has expanded their website to include party decorations and party supplies for the tabletop, as well. With the modern hostess' evolving expectations for personal and unique weddings, events, and elaborate children's birthday parties, Confetti Couture is answering to the demand.
From advice for creating expertly adorned table tops to keeping the party buzzing, this website proves to bring attainable entertaining elegance to the average hostess. Tutorials for setting stunning dessert tables, keeping party guests happily entertained, and creating show-stopping cupcake towers, are a few of the party ideas a hostess can expect to find on the new Confetti Couture website.
Dubbed the "Your Magic Party Wand", Confetti Couture is now offering their Event Planner as a free gift to visitors of their website. With party ideas organized in an easy to use format on their blog, the party company looks to be an all-around party planning tool for hostesses planning parties, showers, weddings and other events.
About Confetti Couture
Confetti Couture is an innovative manufacturer of unique party supplies focused on the modern hostess. Offering an array of products that give the hostess a sophisticated, but playful edge on entertaining, Confetti Couture's hand designed art is what sets their products apart from the usual and expected party goods and brings personality to the party. The Confetti Couture website is a complete and creative planning resource for hosting a wedding, party, or any other event. http://www.confetticouture.com/