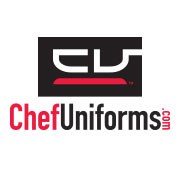 Plantation, FL (PRWEB) August 31, 2013
ChefUniforms.com, a leading national provider of restaurant apparel, chef coats, chef pants and more, has recently unveiled its new look to the general public. The uniform retailer has given its website a complete overhaul, starting with the company's logo itself.
"As you know, the only constant in the restaurant business is change. From cuisine trends to customer taste, not moving forward usually means moving backwards. ChefUniforms.com is equally fanatical about continuous improvement. We're always striving to ensure you the best-possible shopping experience," stated Lori Dunlap, Vice President of Marketing for ChefUnforms.com.
The logo was initially redesigned in order to re-brand the company, and the design of the website itself was changed to keep in line with the newer logo. These changes served to create a unique user experience for the consumer. With its sleek new look, ChefUniforms.com has cleaned up its home page, making it easier to find what you are looking for. The main image has been enlarged, calling attention to the content that truly matters to the customer: the uniforms.
When a user arrives at the new ChefUniforms.com website, they learn what the company is all about, while discovering new styles and looks that are tailored for their specific needs. Clicking on any of the links in the top navigation (which has been kept consistent so that customers are easily able to navigate the site) will bring a user to a redesigned landing page that highlights the unique chef uniforms product. Product pages have also been reworked, with a toned down color scheme and spread out feel that's easier on the eyes. Size, quantity and embroidery options have been split by horizontal lines, rather than numbers, so that a user can clearly see where they need to interact and make their choices. The images of the products are now bigger and better, so that customers can see exactly what they are getting.
Additionally, more content has been added to the website in order to highlight and give more insight into the many services that the company can provide its customers. ChefUniforms.com offers custom design and embroidery services in order to provide its customers with a unique look, one of a kind fabric options, and any other personalized touch that would make their customers stand out. The company also offers customized websites for groups, program management, manufacturing and fulfillment with exceptional turnaround rates, tracking tools for customers to locate their orders, and customer service tailored to fit each customer's needs.
Overall, the company's new look is an inspired change, and will prove to users that ChefUniforms.com knows what its customers want in their shopping experience.
For more about the new look and feel of the website, or for ordering information, please visit http://www.ChefUniforms.com.
About ChefUniforms.com
ChefUniforms.com is a leading retailer of restaurant and chef uniforms. Founded in 2007, the company operates out of Plantation, Florida and ships from their distribution center near Atlanta, Georgia.
For more information and to view their garments, visit the Chef Uniforms web site at http://www.ChefUniforms.com or call 877-482-2433.