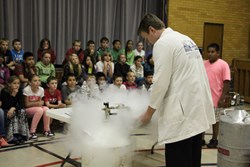 Science is always more exciting with an edible ending.
(PRWEB) August 30, 2013
Sub Zero Ice Cream & Yogurt is dedicated to more than making premium liquid nitrogen ice cream. With advanced cryogenic science, Sub Zero personnel hope to instill a love of science in the rising generation. To further scientific learning, Sub Zero has developed an educational program that helps kids learn fundamental science principles in a fun way.
To help support the community and give back to elementary schools, Sub Zero brings advanced science to the classroom. With a visit from one of Sub Zero's "scientists," each student receives a lesson on condensation, evaporation, pressure, temperature, basic chemical properties and much more. At the end of each short presentation, Sub Zero employees change a liquid to a solid by instantly freezing ice cream for each student.
"Sub Zero's presentation is fun and engaging for students," said Shannon Arroyo, third grade teacher at Westside Elementary School. "It teaches scientific principles in a hands-on and kid-friendly way. Science is always more exciting with an edible ending."
Since furthering education is so important to Sub Zero Ice Cream, kids can experience the gastronomical presentation for a low price. To impact as many students as possible, the science program can also be adjusted according to age, time limits and school preferences.
"We thought Sub Zero was great," said Annette Warnich, Head of Arches Academy. "It was even better than we expected–more full of science instruction, cooler demonstrations, and even our choice of flavors for ice cream. We loved everything!"
In addition to a science lesson, Sub Zero impacts students beyond the classroom with a reading rewards program. Students are given a bookmark for a free ice cream if they read 20 minutes for 20 consecutive days with adult supervision.
"The students LOVED the science and the ice cream," said Eloise Carlston, fifth grade teacher at Arcadia Elementary School. "I think they were as amazed as I was with the speed that you produced three flavors of ice cream for everyone. They are excited to read 20 minutes for 20 days and get another taste of the ice cream!"
With Sub Zero Ice Cream educational presentations, students everywhere can learn to harness science in educational and delicious ways. To learn more about school presentations visit our website at subzeroicecream.com and contact the corporate office with any questions.