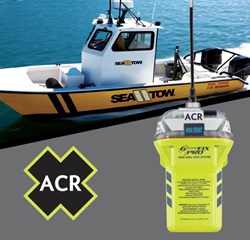 Words cannot explain our gratitude and appreciation toward the U.S. Coast Guard, Sea Tow, and ACR Electronics for saving our lives, said Keith.
Ft Lauderdale, FL (PRWEB) August 29, 2013
ACR EPIRB Locates Four Fishermen Who are Rescued by Sea Tow® Captain and U.S. Coast Guard
This week, Karson Keith, along with his brother and two friends, set out on a typical fishing trip off the west coast of Florida near Cedar Key. While fishing 10 nautical miles off shore, they noticed their electronics had lost all power, and the boat's batteries had died. They put in a call to the Sea Tow Horseshoe Beach, FL location for help and while waiting for assistance to come they began to prepare the boat for a storm fast approaching.
Sea Tow Captain Daniel Smith set off in his 26' Twin Vee Boat to assist the disabled boat at 7 p.m. The crew donned life jackets as the storm brought along 45 to 50 knot winds and 8' to 12' seas. The storm overtook Karson and his crew who were only able to get out one mayday call without any coordinates to the United States Coast Guard (USCG) at Yankee Town before the boat capsized, throwing all four mariners into the sea. The crew quickly tied themselves to each other with dock line and activated their ACR GlobalFix iPRO Emergency Position Indicating Radio Beacon (EPIRB). "Drifting away from the boat I can't explain in words the fear and thoughts going through each one of our heads but we felt as secure as you could feel in these circumstances with the EPIRB telling us the signal was sent," said Keith.
With visibility rapidly decreasing, Captain Smith continued onto the position where the boat should have been. With no signs of the boat or crew, and despite the significant risk imposed by the storm, Smith continued to search for the boaters while waiting to regain radio communications with the Coast Guard.
Around 10 p.m., a USCG helicopter appeared on site and located the four fishermen thanks to the GPS coordinates provided by the EPIRB. A rescue swimmer was deployed to assist the fishermen, while the USCG assisted in directing Captain Smith to their exact location. Keith recalls, "When we got onto the Sea Tow boat, that's when we realized that we had drifted approximately 6 miles from where the boat overturned in approximately two and a half hours. The Coast guard rescue swimmer said they probably would not have found us that night if at all if it wasn't for the EPIRB signal."
"Words cannot explain our gratitude and appreciation toward the U.S. Coast Guard, Sea Tow, and ACR Electronics for saving our lives," said Keith. "With many years of experience on the ocean, we never thought we would be in this situation but we were, and I'm glad we spent the money for the ACR EPIRB and were well prepared because if not, we would probably would not be here today," Keith added.
Captain Smith shared, "We are always glad when there is a happy ending to what could have been a tragic situation. Thanks to the location provided by the EPIRB and the coordinated efforts with the U.S. Coast Guard we were able to bring Mr. Keith and his friends home to their families."
*"The Coast Guard wants to remind boaters to always check the weather before leaving the dock," said Petty Officer 2nd Class Omar Arrieta, a search and rescue withstander at the sector. "Weather can deteriorate very quickly and catch a boater off guard. Continue to always have life jackets and proper safety equipment aboard your vessel, like an EPIRB and a VHF-FM radio, so if you are caught in severe weather, the Coast Guard can assist you quickly."
About Sea Tow
Now celebrating its 30th anniversary year, Sea Tow Services International Inc. is the nation's leading on-water assistance provider. Established in 1983 by Founder & CEO Capt. Joe Frohnhoefer, Sea Tow now serves members in more than 100 locations throughout the United States, Europe, U.S. Virgin Islands and Puerto Rico. For a full list of membership benefits, how to become a Sea Tow member, or to inquire about becoming a Sea Tow franchise owner, please visit seatow.com.
In addition to providing peace of mind on the water 24/7 to Sea Tow members and other boaters, Sea Tow also offers innovative, free boating safety and information services to the public, including the Sea Tow App for smartphones, Sea Tow's Automated Radio Check Service, and the nonprofit Sea Tow Foundation's Life Jacket Loaner Station program. For more information, visit http://www.seatow.com and http://www.boatingsafety.com.
About ACR Electronics, Inc.
ACR designs and manufactures a complete line of safety and survival products under the ACR and ARTEX brand names including Emergency Locator Transmitters (ELTs), Emergency Position Indicating Radio Beacon (EPIRBs), Personal Locator Beacon (PLBs), Search and Rescue Transponder (SARTs), Strobe Lights, Life Jacket Lights, Search Lights and safety accessories. Its quality management system is certified by TUV USA to AS9100C / ISO 9001:2008 standards. Recognized as the world leader in safety and survival technologies, ACR and ARTEX have provided safety equipment to the aviation and marine industries as well as to the military since 1956. The company is headquartered in Fort Lauderdale, Florida and employs over 180 staff at its manufacturing facility.
*Source: USCGnews.com: http://www.uscgnews.com/go/doc/4007/1883058/Coast-Guard-commercial-salvage-rescues-4-near-Cedar-Key-Fla/.