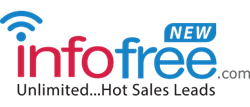 If you sell farm equipment, animal feed, insurance or other products that support the agricultural sector, then you need this list.
- Rakesh Gupta, president of infofree.com
SAN MATEO, Calif. (PRWEB) August 29, 2013
infofree.com, the home of unlimited sales leads and mailing lists for $49.95 per month, today announced an enhanced database with information on 1.2 million farmers across the United States. As a service to loyal subscribers, the database is available at no extra cost.
"If you sell farm equipment, animal feed, insurance or other products that support the agricultural sector, then you need this list," said Rakesh Gupta, president of infofree.com. "The leads in this list are your gateway to finding prospects that you never knew existed and turning them into customers that will make your business grow."
An Inc. 500 company, infofree.com is revolutionizing the sales leads industry by providing small businesses and sales professionals with unrestricted access to 300 million consumer and business listings – for the low price of $49.95 per month. Users also receive unlimited search, select and view of leads contained in more than 200 specialized databases, such as the farmers listings.
As with other infofree.com databases, the farmers category can be tailored according to geography, gender, household income, presence of telephones and many other search criteria. More than 100,000 users have experienced the convenience, accuracy and proven results of infofree.com.
To subscribe, visit http://www.infofree.com or call (877) 448-0101.
About: infofree.com is revolutionizing the sales lead and mailing list industries by providing unprecedented search, view and download of low-cost marketing information enabling sales professionals and small businesses to target new customers and increase their sales productivity. Named to the Inc. 500 list of fastest-growing U.S. companies, infofree.com offers 300 million business and consumer listings and more than 200 specialized databases.
Content is compatible with the following platforms: Oracle CRM, Salesforce CRM, Microsoft CRM, Nutshell CRM, Goldmine CRM, Sage ACT! CRM, Highrise CRM, Zoho CRM, NetSuite CRM, SAP CRM, Constant Contact, RightNow Technologies, Responsys, Vertical Response and Dun &Bradstreet.