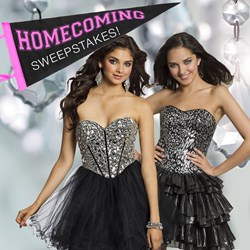 We are excited to launch another one of our exciting sweepstakes on Facebook, which will offer our fans another chance at a fabulous shopping spree for their homecoming party
Secaucus, NJ (PRWEB) August 29, 2013
With a consistent goal in building their Facebook fan base and establishing ongoing brand awareness, Camille La Vie has recently launched a Facebook campaign, the Homecoming 2013 Sweepstakes, to kick off the new school year. This promotion, which began August 12th, 2013 and ending on September, 15th 2013, includes the chance to win a Camille La Vie & Group USA shopping spree valued at $500 and a "swag" box containing various beauty products.
With the commencement of the new school season and the homecoming dances that soon follow, Camille La Vie & Group USA is offering students the opportunity to shop the homecoming dresses, shoes and accessories of their dreams at one of the Camille La Vie or Group USA store locations, as well as their online e-commerce store at camillelavie.com. President of Camille La Vie & Group USA, Denise Viotti says, "We are excited to launch another one of our exciting sweepstakes on Facebook, which will offer our fans another chance at a fabulous shopping spree for their homecoming party."
To be eligible to enter Camille La Vie's Homecoming 2012 Sweepstakes, participants of ages 13 and up, must first "Like" the Camille La Vie page before filling out the entry details on the submission form that is located on their Facebook tab titled "Enter to Win $500". As a bonus incentive, the company will offer each participant the opportunity to increase their chances of winning. By sharing the sweepstakes on Facebook and encouraging their friends and family to enter, they will receive an additional entry for every person who also enters.
For more information and complete details of submission requirements, entrants interested in participating can visit Camille La Vie's Official Rules for the Campaign through their sweepstakes tab.
The company also recently created a section dedicated to homecoming 2013 with dresses modeled by Ali Lohan. The grand prize winner of the sweepstakes will have the opportunity to wear a dress of her choice showcased by the model.
About Camille La Vie & Group USA
Camille La Vie & Group USA is a one stop boutique to all things party dress chic in prom dresses, homecoming dresses, wedding dresses, social separates, day into evening dress styles, bridal, formal accessories, jewelry and shoes. They offer one of the most extensive and stylish collections of special occasion dresses that can be found under one fabulous roof! Since its inception in 1985, the company's motto of "to provide customers with the latest dress fashions at an affordable price" has made them a leading retailer in virtually all categories. To date, Camille La Vie & Group USA has expanded to a total of 24 stores nationwide.
In select Camille La Vie & Group USA stores, customers will discover a collection of bridal apparel including wedding dresses, bridesmaid dresses, flower girl dresses, mother of the bride dresses and guest of wedding dresses. Camille La Vie & Group USA also provides bridal alteration and consulting services. So whether your style is classic and elegant or modern and chic, Camille La Vie & Group USA will outfit stylish women of all types without breaking their bank!
If you're on a committed search to score a certain dress style, Camille La Vie & Group USA is your one-stop source for all things pretty – from on-trend high to low dresses, mirror stone and chunky beaded bodices, bright and bold hues, florals and animal prints, handkerchief, godet and trumpet hemlines, subtle detailing or all over sequins, one shoulder, crisscross back or cut out silhouettes to cascading ruffles and fun, frilly poof A-line skirts in tulle, Camille La Vie & Group USA's fashion styles are seemingly endless! And the options do not just stop there. Follow Camille La Vie on Twitter at @camillelavie.