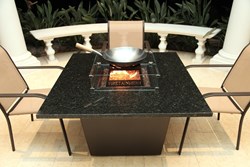 Orlando, Florida (PRWEB) August 30, 2013
Firetainment, Inc., producer of quality fire tables and supplier of fire table cooking accessories, will be reaching residential and commercial outdoor markets in the next few months using various dealer and media outlets. Firetainment fire tables will be showcased next month at International Casual Furniture & Accessories Market taking place in Chicago.
After the launch of the all-season fire table, Firetainment is seeing an increased interest for their products. With more versatility and convenience than traditional wood burning fire pits, Firetainment fire tables offer the benefits of a fire pit but also many other features to complete the outdoor living space. The fire tables are full size and functional as a regular dining table and offer a cooking mount and complete cooking package to prepare meals. The idea behind the fire table is that it performs three functions in one: fire + table + cooking; providing the ultimate entertainment experience. This concept continues to be the reason for consumer interest and new marketing programs implemented by Firetainment.
Firetainment products will be showcased at the International Casual Furniture & Accessories Market taking place at The Merchandise Mart in Chicago. This show takes place Tuesday, September 17th through Friday, September 20th, 2013. The Market provides retailers with a destination to find all things related to outdoor and casual living. For more than 30 years, The International Casual Furniture & Accessories Market has been the ultimate destination for casual furniture, accessories and outdoor living trends. The Firetainment display booth will be located in the Garden Accessories Courtyard, booth #8-2013. More information on the show can be found at http://www.casualmarket.com.
Firetainment is partnering with various locations and online merchants to represent the fire table product. The Firetainment Dealer Program and new pricing structure is available making it a lucrative opportunity for qualified dealers around the country. Dealers are being offered an exciting product that is one-of-a-kind on the market. Firetainment promises a high quality, durable product made in the USA. More information on the dealer program is available by contacting Firetainment directly.
The outdoor room phenomenon exploded during the economic downturn as consumers focused on outdoor living at home and traveled less. Fire pit and grill sales are expected to grow in large amounts over the next five years. According to the American Society of Landscape Architects (ASLA) the category of Outdoor Living Spaces, defined as kitchens and entertainment spaces, received a 94.5 percent rating as somewhat or very popular. Ninety-seven percent of respondents rated outdoor firepits and fireplaces as somewhat or very in-demand for 2013. Because of these market trends Firetainment expects to see an increase in sales and demand for their unique brand.
More information about Firetainment is available online at http://www.firetainment.com.
###