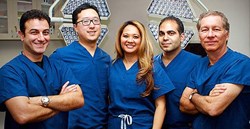 Patient care in 2013 is about being proactive and helping patients learn more about diseases and conditions that affect their daily life. We can better assist patients when they provide more detail and relevant information about their conditions.
Beverly Hills, California (PRWEB) August 30, 2013
The colorectal surgeons of Los Angeles Colon and Rectal Surgical Associates (http://www.colon90210.com) have taken the proactive step to expand their website to feature patient education on colon cancer, irritable bowel syndrome, and inflammatory bowel disease, including Crohn's Disease and Ulcerative Colitis. The new website sections will address the following information: prevention, causes, symptoms, diagnosis, complications, and treatment; with most of the attention focusing on treatment for patients that suffer from colorectal conditions in Los Angeles. The aim of the new sections is to give patients the education that will promote more confidence prior to making appointments.
Treatment For Irritable Bowel Syndrome
The section on IBS treatment is for the 30 million plus Americans affected with this disease, who require ongoing treatment and support. Although less severe than IBD, its symptoms are commonly confused with IBD. Some of the common symptoms like diarrhea, constipation, abdominal cramps, gas or bloating may result from many different factors besides IBS. Patients will find helpful tips, suggestions and expert articles full of research covering the important points of IBS.
Treatment For Inflammatory Bowel Disease
IBD, or inflammatory bowel disease, affects nearly 2 million Americans and consists of ongoing treatment through medication, lifestyle adjustments, and surgery. The disease includes the two conditions, Crohn's Disease and Ulcerative Colitis, which are forms of IBD and have different effects on the intestine. As inflammation persists in this chronic condition, the patient can suffer further complications; therefore, having readily available information regarding IBD treatment is essential in getting patients to make proactive and healthy decisions.
Treatment For Colorectal Cancer
Colorectal cancer is diagnosed 150,000 times per year in the United States and is the second most prevalent form of cancer. However, most cases are preventable and treatable with the help of a physician. The development of precancerous polyps, the beginning and spread of colon cancer, can usually be completely avoided with normal colonoscopy screenings and other check-ups with your doctor. Patients in Los Angeles who want to take action towards protecting themselves against colon cancer, getting a timely diagnosis, and receiving colorectal cancer treatment in Los Angeles can now rely on the blog at Colon90210.com for expert recommendations.
A Better Doctor-Patient Relationship
Over the long 50 year history of LACSRA, the colorectal surgeons have always focused on providing optimal patient care. With more and more patients looking to the Internet for information about their ailments, the doctors believe their new disease-focused sections will help educate their patients before they enter the physician's office. Doctor Gary Hoffman has already noticed the differences: "We're able to accomplish more with our appointment time when patients come to us having read our website and studied their symptoms from a medical point of view. Patients help us by providing much more detail-rich and relevant information about their conditions." As time passes, the doctors hope that their new articles and website will help benefit the patients by allowing them to access the information from the convenience and comfort of their own home.
About Colon90210.com
The surgeons at Los Angeles Colon and Rectal Surgical Associates started http://www.colon90210.com earlier this year as a satellite to their main website. Los Angeles Colon and Rectal Surgical Associates has a history spanning 50 plus years, and it remains focused on accurate diagnosis and up-to-date, compassionate surgical treatment. The proctologists are Gary H. Hoffman MD, Eiman Firoozmand MD, Liza M. Capiendo MD, Steven Yoo MD, and Allen Kamrava MD. There are currently two offices serving Culver City, Santa Monica, Beverly Hills, West Hollywood, Los Angeles, the valley and the reminder of Southern California. The offices are located in Beverly Hills and Culver City.
Los Angeles Colon and Rectal Surgical Associates
9400 Brighton Way, Suite 307
Beverly Hills, CA 90210
+1 (310) 273-2310