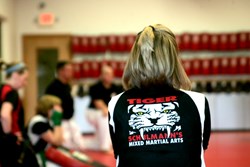 You can learn real life self defense and achieve peak fitness with Tiger Schulmann's Mixed Martial Arts kicboxing program. There has never been a better time to join!
Old Bridge, New Jersey (PRWEB) August 31, 2013
Kickboxing has rapidly become one of the nation's major fitness trends. People from all walks of life have clamored to join varying programs offering the benefits of substantial weight loss and increased fitness.
Tiger Schulmann's Mixed Martial Arts in Old Bridge, is an authority in kickboxing training. Dozens of athletes from Tiger Schulmann's compete professionally in the sport.
"We offer 'authentic' kickboxing classes," says Alon Feder, Director of Marketing for Tiger Schulmann's. "Students learn the most current and effective kickboxing techniques. They are trained to execute the moves properly. This allows them to gain the benefits and greatly reduce the risks which come with high impact exercise. Many cardio kickboxing classes only simulate kickboxing. The downside is that they are not as effective and more prone to sustaining injuries through improper technique," Feder states.
The new web-only offer for Tiger Schulmann's of Old Bridge, New Jersey can be located at this website: oldbridgemma.com/kickboxing-classes/.