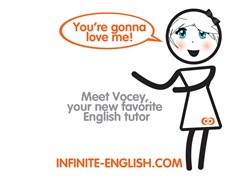 Learning English will never be the same!
Golden, CO (PRWEB) August 29, 2013
Vocefy, Inc. has announced the launch of Infinite English, a mobile learning app that will challenge all current approaches to learning English. The app uses mobile smart devices and cloud processing to mimic a clever, animated personal tutor named "Vocey." The friendly online tutor lets users pick interesting content from anywhere, practice reading out loud and gives immediate feedback with infinite patience, anywhere and anytime. And she works cheap.
Meet "Vocey" at http://www.infinite-english.com.
1.7 billion people worldwide study English as a second language. Through traditional avenues, students learn vocabulary and reading and writing, but because there are few opportunities to interact with native English speakers, they fail to develop conversational fluency. That's where "Vocey" and Infinite English come in. "Vocey" is an always available and infinitely patient tutor. She delivers feedback and assistance in very much the same way as a live native English tutor. The only difference is that she is always accessible and never tires or gets frustrated. She's also infinitely accommodating and will work with whatever content is interesting to the student.
"The technology behind 'Vocey' is very complex," said Founder and CEO Jim Behrens, "But we were determined to hide all the complexity and really mimic a native tutor and offer unlimited interesting content. "'Vocey' is all you see and hear."
Assistant Professor Julien McNulty from Chosun University in Korea participated in the testing in early 2013 and became a believer:
"Infinite English is very powerful and convenient for my students. I just didn't have sufficient resources and time to push students through the fluency barrier. Now I will be able to assign content, see results immediately and better direct their English efforts all from their smart devices at their own individual speeds and needs."
English Language Director Wu Dan from Global Education, Kunming, China sees Vocey as an example of how technology should be used to solve educational barriers.
"I see these students on their phones constantly and now I can envision tens of millions of them improving their fluency at the same time using Infinite English. The convenience and immediate feedback will be very valuable. I think they will love Vocey."
Infinite English supports 64 languages and launched in August 2013 and is available in 130 countries from the Apple and Android App stores at a yearly fee of $9.99 for unlimited use. Infinite English is a product of Vocefy, Inc., headquartered in Golden, CO, USA.
Summary:
Infinite English has been designed to change the way English is learned. This powerful and convenient on-the-go technology provides an animated, virtual tutor named "Vocey" to address fluency - the most difficult part of mastering conversational English. "Vocey" comes to life via a novel combination of a smart device and cloud technology. She is always available on the student's smart device and utilizes whatever content the student chooses. She just might become your favorite tutor ever.
Press kits available at http://www.infinite-english.com.
Contact: press(at)infinite-english(dot)com