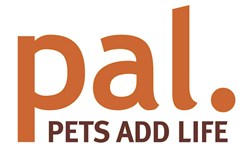 Greenwich, CT (PRWEB) August 30, 2013
Bob Vetere, American Pet Products Association (APPA) President & CEO, is proud to announce APPA's non-profit public awareness campaign, Pets Add Life (PAL), has won the 2013 PR Daily Nonprofit Award for "Best Use of Social Media." Using multiple social media platforms to promote pet ownership and the joys pets bring to our lives, the campaign also recently received a PR Daily Award for "Best Viral or Word of Mouth Campaign," and is recognized among an exclusive group of national winners in other categories of campaigns and brands.
"We are overjoyed to receive this additional award in recognition of our initiatives," said Vetere. "Our commitment to voicing the joys of pet ownership and ultimately getting more pets in people's homes has never wavered, so we are truly thrilled to see our efforts and dedication recognized."
As the winner of the "Best Use of Social Media" category, PAL is recognized for its strategic communications and use of several social media platforms, including YouTube and Facebook, to encourage multiple pet ownership of all types of pets. Strategically promoting pet ownership in an entertaining way, PAL also partnered with Andrew Grantham, creator of the wildly popular "Ultimate Dog Tease" video and Talking Animals YouTube channel, to produce a series of viral videos with the notion that pets also need 'pals' to talk to.
For more information on PAL's win, visit http://www.prdaily.com/awards/specialedition/176.aspx or to view the entire list of 2013 PR Daily Nonprofit Award winners, visit http://www.prdaily.com/Awards/NPA2013.aspx.
For more information on the PAL campaign, visit PetsAddLife.org, YouTube.com/PetsAddLife, Facebook.com/PetsAddLife, or contact Brooke Gersich at 775-322-4022 or Brooke(at)theimpetusagency(dot)com.
-###-
About APPA:
The American Pet Products Association (APPA) is the leading not-for-profit trade association serving the interests of the pet products industry since 1958. APPA membership includes more than 1,000 pet product manufacturers, their representatives, importers and livestock suppliers representing both large corporations and growing business enterprises. APPA's mission is to promote, develop and advance pet ownership and the pet product industry and to provide the services necessary to help its members prosper. Visit http://www.americanpetproducts.org for more information.