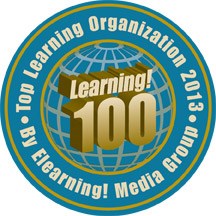 We are honored to recognize these top-performing learning organizations for 2013. Altogether, the Learning! 100 winners represent the best-of-the-best in learning and development throughout both the public and private sectors.
(PRWEB) August 30, 2013
Elearning! Media Group (EMG), publishers of Elearning! and Government Elearning! magazines, announced today the Learning! 100 Award recipients. The Learning! 100 Award recognizes 60 corporate and 40 public sector organizations for outstanding learning culture, innovation or collaboration that drives performance. Honorees cut across all industries and organization sizes, from 5 to 1.6 million employees.
"We are honored to recognize these top-performing learning organizations for 2013. Altogether, the Learning! 100 winners represent the best-of-the-best in learning and development throughout both the public and private sectors," reports Catherine Upton, Group Publisher, Elearning! Media Group.
The Learning! 100 Award program has a solid, research-based approach that offers firms a level playing field despite size, and post-awards learning opportunities to improve firm rankings in subsequent years. Learning! 100 applicants were evaluated across three criteria: Aberdeen Group's Best-in-Class Learning & Development assessment, EMG's Learning Culture index, and overall organizational performance. Each submission received a rating for each section and scores were totaled to identify the top 100. The organizations' Learning! 100 ranking was determined by overall performance and the impact of their learning leadership.
"The top-ranked organizations all drive innovation and learning impact across their organizations, and many overcome incredible odds. For example, last August, the U.S. Defense Acquisition University (DAU) Teaching and Learning Laboratory (TALL) burned to the ground. But that didn't stop them. Dr. Chris Hardy and his team immediately went to work re-establishing the facility's mission, obtaining funding, and then literally rebuilt it out of the ashes — replete with some leading edge capabilities and technologies," reports Joe DiDonato, Awards Director, Elearning! Media Group.
The 2013 Learning! 100 Corporate Enterprise Honorees Are:
ORDER: Rank, Top Private Sector Companies Program, Area of Excellence
1 SuccessFactors, An SAP Company; Sales Onboarding Program, Performance
2 Shaw Industries, AIM Performance Management, Performance
3 The Hertz Corporation, Senior Leadership Program, Culture
4 Vi, Leadership & Management Development, Culture
5 CISCO, Cisco Virtual Classroom Instruction Specialist Certification, Collaboration
6 TELUS Communications, TELUS Quest, Innovation
7 LeapFrog, LeapPad II, Innovation
8 VMWare, Customer and Partner Programs, Collaboration
9 CA Technologies, The UnifiED program, Collaboration
10 Scripps Health, The Care Management Program, Collaboration
11 LinkedIn, LinkedIn University, Collaboration
12 Navy Federal Credit Union, Executive Development Program, Performance
13 Verizon, Hero Program, Performance
14 MillerCoors, Sales Playbook and Academy, Culture
15 ROCHE Pharmaceuticals, EEMEA Creativity and Innovation, Innovation
16 Hitachi, Social Knowledge Co-Creation, Culture
17 Salesforce.com, Customer Education, Performance
18 SCC Soft Computer Clinical Laboratory 101, Laboratory Basics for Non-Medical Personnel, Performance
19 Oracle, Cybrarian Information Services, Performance
20 Morrison - TouchPoint; Driving Value Program, Performance
21 Redhat, Role-Based Training and Certification, Performance
22 McDonald's, Hamburger University : LMS New Manager Training, Performance
23 Neiman Marcus, Talent Management System, Culture
24 Cricket Communications; Mobile Sales Training; Innovation
25 Boeing, LMS Consolidation, Performance
26 Farmers, University of Farmers, Culture
27 Choice Logistics, Organizational Development Program, Culture
28 Ascension Health Information Services, YOU, Managing Your AHIS Career Program, Culture
29 IBM, Center for Advanced Learning Smart Play for Learning, Culture
30 SAIC, SAIC Employee Relations Certificate, Collaboration
31 BBVA Compass, Learning on Participant's Schedule; Performance
32 Orange County's Credit Union , GoSymple Journal , Culture
33 ViaSat, ViaSat Leadership Institute 2, Performance
34 AAA Northern California, Nevada & Utah Insurance Exchange, The AAA Leadership Institute Culture
35 Qlik Technologies, Customer Education and Certification, Performance
36 MTR Corporation, Work Improvement Team, Culture
37 Yum! Brands, Inc, Yum! University, Culture
38 Bechtel Corporation, Bechtel Community of Practice, Collaboration
39 Toshiba American Business Solutions, Web Le@rning and Collaboration, Collaboration
40 IBM, The IBM Virtual Event Center, Collaboration
41 Mountain America Credit Union, IRA E-Learning Project, Culture
42 Symantec, Sales Readiness Training, Collaboration
43 Discover Financial Services, New Hire Scorecards, Innovation
44 Raytheon Company , Developing Leaders at All Levels, Culture
45 USAA, USAA Member Contact Learning, Culture
46 CSC, Service Executive Certification, Culture
47 Craig Technologies, Instructional Design, Innovation
48 Hilton Hotels & Resorts, Leadership Training, Performance
49 Westinghouse Electric Company, Aligning a Corporate University, Performance
50 First Insight Corporation, Annual Users Conference, Collaboration
51 Paul Ekman Group, Facial Recognition Training, Innovation
52 Kelly Services, Office of Innovation - HR Client Services, Innovation
53 Audatex, AudaExplore - Client Implem. Support, Collaboration
54 Banque Nationale du Canada, Structured Products Initiative, Innovation
55 Active Network, Learning "Bento Boxes", Culture
56 Carrington Holding Co, Enhancing Learning Services, Innovation
57 Fairway Independent Mortgage, Encompass Online Training, Innovation
58 LIftPort, LiftPortal Lunar Space Elevator Educ., Collaboration
59 Keurig, Keurig University Virtual Environment, Innovation
60 Eci Acsellerate, Eci Acsellerate Online Training, Performance
The 2013 Learning! 100 Public Sector Honorees Are:
Rank, Top Public Sector Learning Organizations, Program, Area of Excellence
1 Defense Acquisition University, Teaching & Learning Lab, Collaboration
2 The Juilliard School, Online Virtual Arts Education, Innovation
3 American Heart Association, Summer Learning Challenge, Culture
4 Khan Academy, Khan Academy, Innovation
5 National Archives and Record Administration , Electronic Individual Development Plan, Culture
6 Southern New Hampshire University, Personalized Degree Program, Innovation
7 The Army National Guard Bureau, Distributed Learning Network: Soldier Readiness, Culture
8 Department of Veterans Affairs, VA Acquisition Academy, Performance
9 United Nations Dept. of Peacekeeping, Leadership Development, Performance
10 Stanford University, H-Star Institute, Innovation
11 Florida Virtual School, Virtual High School, Performance
12 NASA, NASA STEM, Innovation
13 National Defense University, iCollege, Innovation
14 USC Institute of Creative Technologies, Virtual Coach, Innovation
15 Coursera, MOOC, Innovation
16 University of Central Florida, Institute of Simulation & Training, Innovation
17 Department of Veterans Affairs, MyLearn Portal, Culture
18 Office of Personel Management, USA Learning Portal, Innovation
19 Joint Training Integration Evaluation Center (JTIEC), Simulation, Collaboration
20 Wounded Warrior Project, Transition Training Academy, Culture
21 U.S. Air Force, The Medical Interagency Satellite Training, Culture
22 Bridgepoint Education, Future Leaders, Culture
23 Advanced Distributed Learning Initiative, Dept. of Defense, Motif- Mobile Initiative, Collaboration
24 American Bankers Association, Certification Programs, Performance
25 USDLA, Member Education, Collaboration
26 Western Governors University, Online Education, Performance
27 Lawrence Livermore National Laboratory, L&D Programming, Culture
28 U.S. Customs Advanced Training Center, School of Command Preparation: Virtual Mentoring, Innovation
29 Terasem Foundation, Bina 48, Innovation
30 E-learning for Kids, Worldwide E-learning, Collaboration
31 National Parks Service, Dept. of Interior Virtual, Field Trips, Innovation
32 International Federal of Red Cross & Red Crescent Society, Worldwide Aide, Collaboration
33 Professionals in HR Association, Member Education, Collaboration
34 edu1world.org, edu1world, Collaboration
35 Cayman Islands Government, Institute of Leadership & Mgt, Culture
36 IMIAMEC Institute for Learning Research & Electronics, Collaboration
37 Fairfax County Police Department, Safety Training, Performance
38 FGDLA, Member Education, Collaboration
39 North Shore-LIJ Health System Foundation, Health Education, Culture
40 Michigan Virtual University, Teacher Education, Performance
The Learning Continues
The Learning! 100 organizations will be featured in the August/September 2013 award issues of Elearning! and Government Elearning! magazines. To find out more about this year's top winners, visit: http://www.2elearning.com/lead-news/article/learning-100-transforming-the-workplace.html.
EMG and the Aberdeen Group has also released the Best-in-Class report within HCM Trends 2013 Study, reporting the practices of those organizations achieving outstanding performance. To secure the report, visit: http://www.aberdeen.com.
"Aberdeen's research is all about understanding what drives organizational performance, and the power to capture and transfer knowledge, and deliver learning in new ways is one of the keys to unlocking that success," says Mollie Lombardi, Senior Research Analyst, Human Capital Management, Aberdeen Group. "We're pleased to bring our unique research methodology for defining Best-in-Class learning performance to the Learning! 100 Award program."
In addition, key trends, practices and collaborations will be shared in follow-up print, online, virtual and physical networking and educational opportunities. To attend Learning! 100 sessions, register at: http://www.2elearning.com/events/web-seminar-series.html.
The Next Learning! 100 Call for Applications
Learning! 100 Award 2014 applications open Dec. 1, 2013 and close April 15, 2014. Finalists will be notified May 2014. The Learning! 100 will be named in June, and will be honored at next year's Enterprise Learning! Conference & Expo Awards Reception. Bookmark the page and learn more about the Learning! 100 at: http://www.2elearning.com/L100. To view Elearning! Magazine's Learning! 100 Awards edition view the e-zine at: http://elmezine.epubxp.com/t/67167.
About Elearning! Media Group:
Elearning! and Government Elearning! magazines, e-zines, e-newsletters, Alerts, Websites and Summits are produced by B2B Media Company, LLC. Elearning! magazine is one in the family of 11 media products serving the $160 billion e-learning market. In combination, these brands reach up to 2 million executives, practitioners and professionals who plan, evaluate or deploy enterprise-wide learning solutions across their organizations. To learn more, visit: http://www.2elearning.com or http://www.gov.2elearning.com.
About Aberdeen Group, a Harte-Hanks Company:
Aberdeen provides fact-based research and market intelligence that delivers demonstrable results. Having queried more than 30,000 companies in the past two years, Aberdeen is positioned to educate users to action: driving market awareness, creating demand, enabling sales, and delivering meaningful return-on-investment analysis. As the trusted advisor to the global technology markets, corporations turn to Aberdeen for insights that drive decisions.
As a Harte-Hanks Company, Aberdeen plays a key role of putting content in context for the global direct and targeted marketing company. For additional information, visit Aberdeen or call (617) 854-5200, or to learn more about Harte-Hanks, call (800) 456-9748.