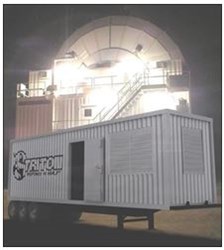 (PRWEB) August 30, 2013
Americas Generators, the largest independent commercial and industrial diesel generator supplier in North America, has announced a warning to businesses to prepare for the heart of the hurricane season. The heart of the hurricane season traditionally begins in late August and culminates in October. Preparation is paramount to help mitigate the devastation major hurricanes can have on local infrastructures.
According to statistics from the National Oceanic and Atmospheric Administration (NOAA), less than two percent of severe hurricane activity strikes before the month of August. The lion's share (upwards of 95 percent) of massive hurricanes occurs within the months of August, September and October. In addition, the activity level (large or small) in June and July has no predictive value as to what lies in store for the heart of the hurricane season.
Importantly, the NOAA predicts that the 2013 hurricane season can expect an above average amount of major storms. This comes as troubling news to much of the Eastern United States still struggling to recover from the destruction of last year's brutal "Superstorm Sandy."
Businesses, even those located far inland, can be significantly impacted by storms due to widespread power outages, disruptions in supply lines and more. Generators play a huge role in allowing companies to continue operations, especially in the days following an event. Businesses are fundamental to a community's ability to rebuild and progress.
Diesel generators, like those supplied by Americas Generators, offer a particularly reliable and safe option ideal for emergency situations. In addition to boasting longer life spans and lower maintenance costs when compared to other leading types, they use nonflammable diesel fuel. Unlike generators powered by gasoline, propane, or natural gas, diesel generators do not use spark ignitions and are safer to store, as diesel does not explode.
Americas Generators recommends businesses prepare for this year's heart of the hurricane season immediately by visiting their website or directly contacting them today to locate the appropriate generators for sale.
About Americas Generators:
Established in 1990, Americas Generators has since grown into a generator and diesel generator industry powerhouse. Today, they stock a full complement of high quality diesel generators and ancillary equipment, including over 400 generators from the biggest names in the industry, including Cummins generators, John Deere generators, Perkins generators and more ready for immediate delivery. Their generators provide power to government, medical, mining, utility, entertainment and many other industries across the nation. Americas Generators is guided by their core values: integrity, quality, commitment and innovation. For more information, visit http://www.americasgenerators.com/ or follow them on Facebook or Twitter.