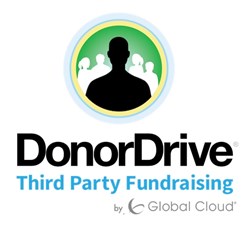 Third party programs let donors have it their way.
Cincinnati, Ohio (PRWEB) August 30, 2013
DonorDrive Social Fundraising has released a free ebook showing nonprofits how to create their own third party fundraising programs that increase their revenue streams by giving their supporters new tools to fundraise. The Complete Guide to Creating a Third Party Fundraising Program is the most comprehensive publication available on the topic and includes expertise from ASPCA, JDRF Canada, the American Foundation for Suicide Prevention (AFSP) and other nonprofits that have built successful third party fundraising programs on DonorDrive that generate millions of dollars annually. Third party fundraising programs can include a wide variety of supporter-created fundraisers with the promotion and donations handled through the nonprofit's fundraising software. Supporter-created fundraisers can be anything from a Personal Campaign to shave off a beard, community events conducted by local businesses, or running in large-scale endurance event like the Boston Marathon — all for the benefit of the organization.
Third party fundraising programs have been a huge success for DonorDrive clients because they fit the lifestyle and giving preferences of today's supporters. According to Mike Malekoff, former vice president of JDRF: "Supporters have become a lot more challenging for nonprofits in terms of doing things their way. They want to help, but they want to do it in a way they're comfortable with. Third party programs let them have it their way." Many major nonprofits (including Doctors Without Borders, National Psoriasis Foundation, Team ASPCA, and JDRF) are using DonorDrive for their third party programs. Recently, a 14-year-old individual supporter, conducted a Personal Campaign on his Bar Mitzvah for JDRF and received $123,000 in lieu of gifts for the organization that had helped him.
This ebook covers every aspect of creating a third party program from getting board member consensus and dedicating staff through setting them up in fundraising software and promoting them to supporters. Nonprofits will find this ebook useful for building their own program or for just evaluating the third party fundraising space for their organization. The ebook is available as a download from DonorDrive.

DonorDrive® is truly effective software dedicated to event-based social fundraising for medium and large nonprofits. Children's Miracle Network Hospitals, Doctors Without Borders, JDRF Canada and Team ASPCA are a few of the causes that use DonorDrive Social Fundraising software for their runs, walks, rides and virtual campaigns to engage constituents and maximize donations. Every year, people are raising millions for great causes through DonorDrive. Learn more at DonorDrive.com.