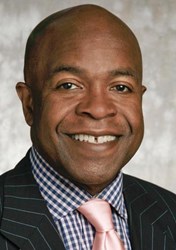 ...this will drive the company to the next level.
Chicago, IL (PRWEB) August 29, 2013
Rewards Network, a leading dining rewards program provider, announced today that the company named Peter Bynoe, 62, Chief Executive Officer, effective September 9, 2013.
"Peter's broad experience in fueling the growth of organizations and his rich operational leadership skills are a great fit for the next chapter of Rewards Network," said Mark Sotir, Chairman of the Board. "He has an entrepreneurial approach that employs innovation and recognizes initiative, and this will drive the company to the next level."
Mr. Bynoe has more than 30 years of experience in growing companies on institutional and entrepreneurial platforms by focusing on operational excellence. He has negotiated and developed major infrastructure projects on behalf of cities, counties, states and private investors, both nationally and internationally.
Mr. Bynoe is most publicly recognized for his role as Executive Director of the Illinois Sports Facilities Authority for which he oversaw the $250 million development of U.S. Cellular Field. The project was credited for keeping the Chicago White Sox within the city of Chicago. Mr. Bynoe has invested in and built telecommunications, real estate, infrastructure and sports/entertainment assets on behalf of investment groups and for his own portfolio.
Immediately prior to taking the role of CEO at Rewards Network, Mr. Bynoe served as a partner and Chief Operating Officer at Loop Capital Markets, a full-service investment bank/broker dealer. He oversaw all of the firm's business practices, focusing on business strategy, infrastructure and resource utilization. Previously, Mr. Bynoe was a senior partner at DLA Piper US LLP, where he served on the Executive Committee as the firm grew from 250 to 5,000 attorneys through mergers, acquisitions and organic growth. He continues to be an adviser to the firm.
Mr. Bynoe is familiar with Rewards Network through his service as a director on the Board of Directors from 2003 to 2008. He currently serves on the boards of Frontier Communications Corporation, Covanta Holding Company and Signature Group Holdings, Inc. He is a trustee of the Goodman Theatre, the Rush University Medical Center and The CORE Center for the Research and Cure of Infectious Diseases. He formerly served as Chairman of the Chicago Plan Commission, the Chicago Landmarks Commission and the Illinois Sports Facilities Authority, and as a director of Jacor Communications and Blue Chip Broadcasting.
Mr. Bynoe graduated cum laude from Harvard College, earned his Juris Doctor from Harvard Law School, and his Masters in Business Administration from the Harvard School of Graduate Management Education. He served on the Harvard Board of Overseers from 1992 to 2001.
About Rewards Network
Rewards Network is a results-driven, measurable marketing program that helps restaurants fill more tables and build a loyal customer base. Rewards Network provides access to over 3.2 million passionate diners, driving new and repeat visits by offering rewards such as airline miles, hotel points, charitable contributions and more. The company promotes restaurants to diners via web, email, social media, and mobile marketing, and also provides valuable customer feedback and performance tracking to help restaurants improve service and increase profits. Learn more about how Rewards Network can help give you a competitive edge.