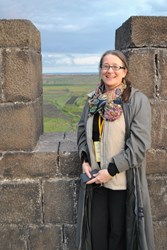 We are pleased to announce the broadened scope and reach of our Board and staff, … providing a significant boost to our capabilities.
Boulder, CO (PRWEB) August 30, 2013
Adventures in Preservation (AiP), a nonprofit charged with safeguarding cultural heritage and fostering community sustainability through experiential heritage travel, has expanded its Board of Directors. The nonprofit announced that Dr. Sara Shreve based in Rapid City, Iowa and architect Deborah Rehn, from Atlanta, Georgia joined its Board of Directors. Eight new volunteer staff, stationed around the world, also joined to support programming.
Dr. Shreve will initiate a university outreach program to strengthen AiP's connections with university programs worldwide. She will work to create partnerships with university programs in disciplines such as art history, architecture, planning and design as well as historic preservation with the goal of providing field experience for students. Dr. Shreve is a recent graduate of University of Iowa and holds a doctorate in American Studies. She has traveled extensively and has a keen interest in sustainable development in emerging economies.
Deborah Rehn is a Licensed Architect and member of American Institute of Architects, with additional degrees in Historic Preservation and Art History. She is also a Project Management Professional and Design Build Professional. She currently works for the National Park Service as Project Manager of the Southeast Regional Office. Deborah will strengthen AiP's outreach by speaking at conferences and for professional groups to provide information about AiP's international preservation projects.
In addition, Board member Austin Mackesey-Buckley, was elected Board Chair. Mr. Mackesey-Buckley received Bachelor and Master's degrees in Architecture from Victoria University Architecture School in New Zealand with heritage building conservation as his specialty.
"We are pleased to announce the broadened scope and reach of our Board and staff, which now includes members from Europe, New Zealand, Ghana and the US," states Judith Broeker, AiP co-founder. "This provides a significant boost to our capabilities."
New staff members include:

Tracey Harty, Salt Lake City, Utah, Marketing Director
Carola Stirk, Boulder, Colorado, Budgeting Director
Olga Vasylchenko, Aukland, New Zealand, Administrative Manager
Jennifer Beatty, Fredericksburg, Virginia, Design Director
Mary Therese Ansty, Denver, Colorado, Outreach Spokesperson
Maria Regnier, Basel Switzerland, Client Relations Manager
Samuel Baddoo, Accra, Ghana, AiP Ghana Project Manager
Svitlana Zatyshnyka, Ternopil, Ukraine, AiP Ukraine Project Manager
Adventures in Preservation (AiP) is a non-profit organization connecting people and preservation through enriching experiential programs that safeguard cultural heritage and foster community sustainability. AiP travelers have the opportunity to travel, experience their destination, and learn hands-on skills from experts while assisting communities in saving their historic resources. Learn more about AiP's "Heritage travel with purpose" at http://www.adventuresinpreservation.org.