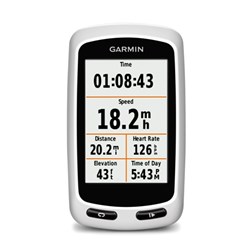 A very small percentage of the cycling population races bikes so the new Garmin Edge Touring is for the much larger majority
Bozeman, MT (PRWEB) August 31, 2013
Garmin Edge Touring Plus is an exciting new bike computer that offers full color maps with turn-by-turn directions and even heart rate according to the Heart Rate Watch Company.
FULL COLOR TOUCH SCREEN
Edge Touring Plus makes use of a full color touch screen technology, just like that in the premium Garmin Edge 810 bike computers. "Edge Touring Plus' micro SD card offers highly detailed maps and turn-by-turn instructions just like your car's GPS whether you are road or mountain biking," says Rusty Squire, President of the Heart Rate Watch Company.
COST and AVAILABILITY
The Garmin Edge Touring Plus will retail for $299.99 and is available now for advanced ordering at the Heart Rate Watch Company with anticipated delivery of mid-September. "You can order them now and we won't charge your card until it ships," says Squire.
THE BIKE COMPUTER FOR TOURING
"A very small percentage of the cycling population races bikes so the new Garmin Edge Touring is for the much larger majority," says Squire.
MARK 200 NAVIGATION POINTS
"Garmin Edge Touring Plus has up to 200 waypoints and you can navigate right to any one of them from your present location," says Squire. He adds, "For touring and riding in unfamiliar areas it is the closest thing you can get to having a car GPS attached to your handlebars."
OPTIONAL HEART RATE
"You can use the Garmin premium soft strap 3 with the new Edge Touring Plus," says Squire. He adds, "This allows you to get all of your heart rate data and calories in real-time on the screen in addition to distance and pacing data."
REGULAR EDGE TOURING
"For those not wanting heart rate you can get the Garmin Edge Touring for $249.99," says Squire. He adds, "If heart rate and calories are not important to you then the regular Edge Touring will be just fine."
"If you'd like to talk to a bike computer expert then simply call us at 866-586-7129," says Squire.