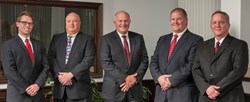 Our customers always have, and always will, come first.
Lexington, KY (PRWEB) August 31, 2013
This month, NetGain Technologies celebrates its 29th year of providing industry-leading I.T. services to its customers.
"It truly is incredible," said Mark Jacobson, NetGain Technologies' CEO. "I'm extremely proud of all that we've been able to accomplish."
For nearly three decades, NetGain Technologies has helped its clients to optimize their I.T. systems, and its managed I.T. services offerings have grown tremendously as a result. NetGain Technologies provides help desk support, proactive maintenance, security solutions and a host of other I.T. services across multiple industries. In that time, the company has grown to encompass six locations across five states, and now employs 140 workers in total. In the past four years alone, the company expanded four times. And the firm has no intention of slowing its growth in the near future.
In addition to this expansion, NetGain Technologies has received significant accolades in recent years. The firm is ranked in the top 100 worldwide managed I.T. services providers by MSPmentor Magazine for five consecutive years and was recognized by Inc. Magazine as one of the top 5000 fastest-growing private businesses in the United States in 2013.
Most importantly, NetGain Technologies has maintained a 95 percent customer satisfaction rate, a testament to the company's focus on client needs and desires.
"Our customers always have, and always will, come first," said Jacobson. "Our clients demand the best, and we always strive to meet those expectations. We've been blessed with tremendous success as a result."
Much has changed in the 29 years since NetGain Technologies was founded. Hardware and software have evolved, as have businesses and whole industries. Yet NetGain Technologies' commitment to excellent customer service and unparalleled expertise remains consistent, and will continue to form the company's backbone for the next 29 years and beyond.
About NetGain Technologies:
NetGain Technologies is a leading provider in the design, procurement, implementation and management of high-performance IT solutions. With services ranked among the best in the nation and world by CRN Tech Elite and MSPmentor respectively, a multi-state regional footprint and almost three decades of experience; we've helped over 1,000 unique clients thrive by leveraging our best-in-class service and support programs. Our highly qualified and experienced professionals align our best-in-class support programs to meet our clients' needs for positive business outcomes.