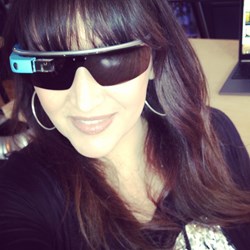 New York, New York (PRWEB) August 29, 2013
Only the lucky few that are part of the Google Glass Explorer program can sport this latest "fashion accessory" and Jackie Silver, founder and president of AgingBackwards.com, is one of them.
The Google Glass Explorer program is an "early adopter" program for developers and select consumers chosen by Google to test Glass, the wearable computer. The program is so exclusive that participants who are selected and purchase Glass must pick it up in one of only three U.S. cities - New York City, Los Angeles and San Francisco - and cover their own travel expenses, in addition to the $1,500.00 purchase price.
Silver picked up her Glass on June 26th, 2013 at the invitation-only loft in New York's Chelsea Market. "The pick-up experience was very special. The Google people provided personal, one-on-one attention and training, plus champagne and snacks," Silver recalls.
Glass comes in five colors: Charcoal, Tangerine, Shale, Cotton and Sky. After careful consideration, Silver chose Sky and says she considers it her best fashion accessory. "I thought about opting for one of the more subdued colors, but changed my mind pretty quickly," says Silver. "If you're on the cutting edge, you may as well stand out. I definitely get a lot of attention everywhere I wear it," she adds.
At a recent, exclusive party for Google Glass Explorers at the company's Chelsea Market loft in New York City, Silver overheard one Glass Customer Experience Representative's "unscientific theory" about color choice. "I notice that people who choose Sky and Tangerine are more 'bubbly' than people who choose the other colors."
About Jackie Silver
Jackie Silver is "aging backwards" and she shares her secrets, tips and shortcuts in her books, on her website, AgingBackwards.com, on TV and radio, in print and in person. Silver is in her 50s and still gets asked for ID to buy wine! She founded Aging Backwards, LLC in 2006.
To arrange an interview, email Silver at: contact(at)agingbackwards(dot)com.