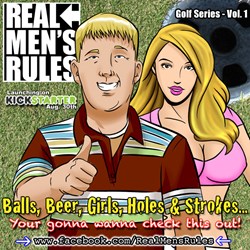 The BEST 'How to' guide to golf ever created. Well...that could be stretching it a bit. - Dave Realmen
(PRWEB) August 30, 2013
REAL MEN'S RULES - Golf Series Vol. 1 is the beginning of a comedic adventure that starts with golf and will venture into all areas where "Real Men" create their own "Rules" in order to more successfully and hilariously navigate life. REAL MEN'S RULES to Golf seems to eloquently parallel its men's lives in many ways, making it easily relatable and creating quite the laugh throughout. Everything in this book has been tried and tested, though may not be recommended and use is at own risk.
Balls, Beer, Girls, Holes and Strokes… And yes, users can expect life and their golf game to be changed FORE-ever. It's probable and hopeful that readers will learn a great deal about the proper procedures to employ while playing RMR Golf. PRO TIPS, a Glossary of Terms, the RULES, a REAL MEN'S RULES Quiz and much more is included. The book is hilariously illustrated adding tons of great visual comedy.
By backing this Book on Kickstarter supporters earn a chance to create "Rules" and submit them, possibly to be chosen and printed in the book. Backers and Supporters of the Kickstarter Campaign also get access to products, and can purchase themselves into the book in multiple ways. 1. At certain levels the backers names are printed in the "Backer Section" of the book. 2. At the top two level tiers backers can purchase a head shot of themselves illustrated into the book as well as buy into the book as a full on character.
The Kickstarter Campaign starts on Friday, August 30th and ends in 30 days. Don't miss the chance of a lifetime... Laughter Guaranteed!